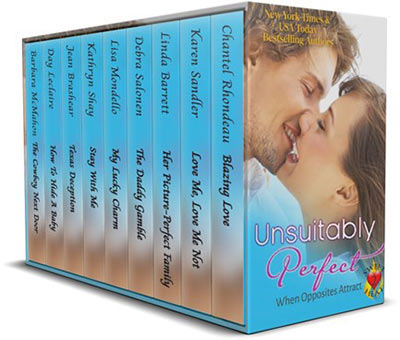 Unsuitably Perfect
Because Perfectly Unsuitable Might Remind You of All Your Exes


FREE in KU or 99 cents to buy!

What happens when he's all WRONG, but oh-so RIGHT? Let these USA Today, NYT, and bestselling authors take you on a fun romp with all the wrong men! When opposites attract, sparks fly and love abounds. Enjoy nine full-length novels and find the man of your dreams… even if he's completely not what you expected!

USA Today Bestselling Author Barbara McMahon, The Cowboy Next Door: Mac's new neighbor, his opposite in every way, gets under his skin like no other woman. He wants to buy Amanda's property from her, but she keeps refusing. Who will give in first, stubborn Amanda or Mac and his once‑burned heart?

USA Today Bestselling Author Day Leclaire, How To Hide A Baby: With an infant niece pressed on him by his brother, Luc is forced to pretend he's married to his assistant when CPS gets involved. As lies and confusion pile up, what could possibly go wrong?

NYT & USA Today Bestselling Author Jean Brashear, Texas Deception: A plucky crusader falls for a down-on-his-luck stranger—only to learn too late that he's the villain determined to destroy her town.

NYT & USA Today Bestselling Author Kathy Shay, Stay With Me: He swoops down in his medevac helicopter and rescues people in crisis situations without fear. But the CEO of the company doling out the grant for a new plane scares him to death.

NYT & USA Today Bestselling Author Lisa Mondello, My Lucky Charm: Meeting a devastatingly handsome surgeon who drives a Harley and has a love for Irish music makes Zoey feel like she's found her lucky charm—until life makes other plans.

Debra Salonen, The Daddy Gamble: Gorgeous, smart, sexy Kate breaks all his dating rules: no ex-husbands, no kids, and certainly not a few years older. So why can't Rob get her out of his head?

Linda Barrett, Her Picture-Perfect Family: A bubbly kindergarten teacher takes on a loner and his war dog…

Karen Sandler, Loves Me, Loves Me Not: She's a strait-laced principal who always follows the rules. He's a free-spirited inventor who thinks rules should be broken. Can these two opposites attract & find true love?

Chantel Rhondeau, Blazing Love: An emotionally wounded veterinarian assistant tries to resist the heat of a blazing hot firefighter, but she can't avoid the flames of his passion.