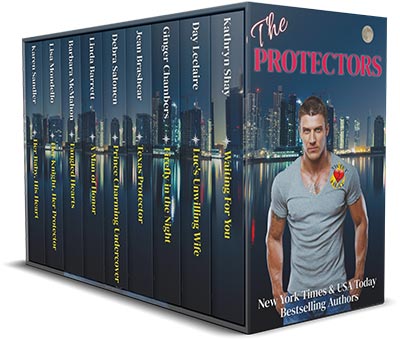 The Protectors
The Tougher They Are the Harder They Fall...in Love


FREE in KU or 99 cents to buy!

They're law enforcement, firefighters, soldiers, and private bodyguards. They'll put themselves between you and danger. You can count on them to pull you out of a tough spot. But after all they've seen and done, they guard their hearts carefully. When they meet the right woman, are they strong enough to let love in?

Her Baby, His Heart by Karen Sandler

Lori must make a decision that could change her life. Gabe is struggling to let go of the one thing he cherishes most. The choices they're each wrestling with are in direct opposition. Can they ever reach across the divide between them to find happiness together?

Her Knight, Her Protector by Lisa Mondello

Former Marine Police Officer and rodeo bull rider, Jesse Knight is no stranger to danger. But when animals in the rodeo circuit start mysteriously falling sick and dying, he can't just walk away. Especially when Carly, the lovely stock contract owner starts receiving death threats. Jessie had been ready to retire from Rodeo and settle down on a small Wyoming ranch, but how can he sit back while defenseless animals and a woman he's come to love are in danger?

Tangled Hearts by Barbara McMahon

Jake Morgan responds to a routine B&E. To his surprise, it's the home of the woman he walked away from two years ago. Now, nothing adds up—not who's stalking her, nor why she's still single. He'll do his best to find the stalker—he'd do that for any citizen. But will he lay his heart on the line for a woman he never should have left?

A Man of Honor by Linda Barrett

Heather Marshall is fearless in protecting her inner-city teens. Officer Dave McCoy sees trouble ahead. Her van is falling apart, drugs are everywhere. Why can't she trust her safety—and her heart—to a cop?

Prince Charming Undercover by Debra Salonen

Las Vegas restaurateur Grace Parlier doesn't gamble, but she risks more than her dowry when she falls for Nick Lightner—gorgeous ex-con or long-awaited prince charming?

Texas Protector by Jean Brashear

He's a detective forever haunted by the night when he couldn't save a young girl from trauma. Now that young girl is a cop herself, and he must send her undercover to lure a murderer.

Firefly in the Night by Ginger Chambers

A father's care. A hard man's skill. Will that be enough to save Marlie's life?

Luc's Unwilling Wife by Day Leclaire

Dantes' security chief, Luc Dante is coerced into six weeks of protection duty for heiress Téa de Luca—just until she reaches her twenty-fifth birthday and can claim her inheritance. The job should be a snap for the powerful, former Special Forces tough guy, except for one thing. When the two touch, the Dantes' legendary Inferno strikes, warning that the two are soul mates, making his job oh-so much more difficult!

Waiting for You by Kathryn Shay

He's a hotshot cop with a heart of gold and she's a former ballerina in a wheelchair. Can they overcome the roadblocks to their life together or will the past end their relationship?