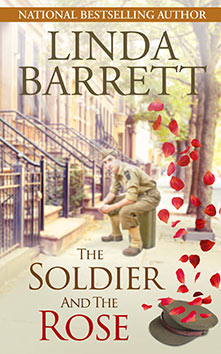 The Soldier and the Rose
From the Greatest Generation, a love story to remember…
Two soldiers go off to war in Europe. Both from the same neighborhood in Brooklyn, NY.  Only one returns home.
Rose Kaufman's grief is soul deep. Her husband, Joe, had been her one true love, so right for her that a lifetime together wouldn't be enough. When Charlie Shapiro shows up with stories of Joe, eager to rebuild his war-shattered life with Rose and her baby daughter…she warns that a marriage of convenience would be unfair—to him. She cannot promise her heart to this kind and gentle man.
Through the years, Charlie wonders if love can grow or if he'll always be second best.
Who is her true love? The man she married with all her heart, or the man who married her with all of his?  It's a question only Rose can answer.
"The Soldier and the Rose is a well written, emotional romantic read with strong main characters. This book made me smile and cry remembering my own parents who were married right after Word War II as well as my Mother in Law and Father in Law who were married for 65 years and who hailed from the same neighborhood in Brooklyn.
Ms Barrett switches between the present and the past in order to bring us the story of Rose and Charlie's 60 year marriage. "Love is not for cowards" is Rose's first thought in the book and this idea is conveyed throughout the story."
Reviewed by reader pensap on Amazon.com
Chapter One
2007, Long Island, NY
"Love is not for cowards."
Rose Shapiro whispered the words with conviction as she sewed another row of sequins onto the new ivory silk jacket she'd wear the following evening. Ivory silk. Appropriate for celebrating a sixtieth wedding anniversary, and so different from the plain navy suit she'd worn to the wedding. She closed her eyes, shutting out that memory, shutting out the pain and confusion that accompanied her second marriage. Her marriage to Charlie.
Love is not for cowards. She understood that now, but she hadn't in the beginning when Joe had been the love of her life, and cotton-candy dreams beckoned them as they said their I do's. She'd grown up a lot since then.
She sighed and opened her eyes, once again stitching carefully. Not many couples reached sixty years of marriage. But she and Charlie had. She knotted and cut her thread, then viewed her efforts with a critical eye.
Cataract surgery last year had turned out to be a boon to her sewing skills, not that she'd thought of sewing as an art form. Using a needle had been a measure of economy during her girlhood, and she hadn't been able to break the habit later on when her pockets were fuller. Especially not with the prices of manufactured goods. In amused tones, her three children had blamed her "Depression mentality."
"The jacket is beautiful, Rosie mine," came a warm voice from the bedroom doorway. "But not as beautiful as you."
"Maybe it's your turn to have a cataract removed." She glanced playfully at Charlie's sparkling green eyes, also noting his recent haircut. Her man of sixty years was ready to party.
"There's nothing wrong with my vision," he replied, reaching for her hand. "Come on, sweetheart. It's time to practice our moves. Don't want to make fools of ourselves on the dance floor tomorrow night."
No chance of that—at least not when she was wrapped in Charlie's arms—but she didn't argue. She replaced the jacket on the padded hanger and stepped toward him.
"Ah, Rosie..." He held her close and began to hum "La Vie En Rose." Her song. He'd been singing it to her in two languages ever since they got married… after the war. In fact, Charlie had been romancing her since he'd met her. She hadn't always appreciated it; he wasn't Joe.
But they'd gotten past that, although not easily and not quickly. Which was why she'd planned a special surprise for Charlie tomorrow.
She kissed him on the cheek, inhaling his woodsy cologne. "Mmm...I've always loved that fragrance."
"You think I don't know?" His laughter was deep and carefree. "Life is good, Rosie, huh?"
"As good as possible for a couple of creaky octogenarians," she replied. She had no complaints, except...
Love is not for cowards.
Her heart lurched. If she was blinking rapidly now to stave off tears, they were not for herself, but for her beloved granddaughter and the young husband who adored her. Pregnant Elizabeth. Devoted Matthew. Matthew—who was about to be deployed to Iraq.
She inhaled deeply. Gathered her thoughts. The children would have to find their own way, of course, but the irony struck Rose, who'd been in the same position—pregnant with Susan, Elizabeth's mother—when Joe shipped out.
Keeping silent would kill Rose now. But she would not turn Liz's phantom worries into concrete reality. When Joe died, Rose had fallen apart; Liz didn't need to hear the details. Matthew would not die. At least, he probably wouldn't.
She would not have Liz thinking Charlie was second best in Rose's eyes. He didn't deserve that. War was war. Some returned and some didn't, and life had to begin again. God help them all.
She smiled up at Charlie and reaffirmed her original answer. "Life is good, Charlie. Very good." Her voice quivered this time, and he squeezed her hand. "Matt's a doctor. He won't be on the front lines."
"You a mind reader?"
"Only with you." He kissed her quickly and added, "Paul drove over. He and I are going for a walk. Want to join us?"
A leisurely stroll with Charlie and their son-in-law tempted Rose, but she hesitated.
"It's a gorgeous autumn day," Charlie cajoled.
"I need to press my fancy-schmancy suit. Can't show up with more wrinkles than I have to!"
But that wasn't the real reason she stayed behind. The past had taken hold. Visual memories. Sense memories. Battles. Letters. Tears. Weddings. Children. And laughter, too. A kaleidoscope of her eighty-five years. Maybe preparations for the anniversary party had evoked them. Maybe Matthew's looming deployment... She'd certainly been maudlin since the day Liz and Matthew had announced their pregnancy last month right in the living room of Rose's Long Island home.
"We're very happy," Liz had said to the assembled family. "We both want children, and the timing's lousy, but..." She lifted her chin, her dark eyes burning.
Fear turned her granddaughter inside out. Rose saw it, heard it, and took a shaky breath. Pregnant! Rose's head pounded, and her heartbeat ricocheted. Been there, done that, my darling girl. And survived. But she didn't want her sweet Lizzy to suffer that same heartache.
Keep your wits about you, Rosie. The children need you. But the children had been focused only on each other at that moment, just as she and Joe had been lost in each other before he went off to war.
She'd glanced at her daughter. Pale, too pale. Susan had never met Joe, her natural father, and although she loved Charlie deeply, she'd never forgotten that fact. Her eyes had flashed with anger—her daughter pregnant and Matt deployed—but Susan had merely shifted closer to Paul and remained quiet.
"Nothing will happen to me," Matthew had declared, placing a serious kiss on his wife's mouth. "I love you, Liz, with everything I've got, but I owe Uncle Sam for my education, and after a year in the Middle East, I'll be stateside again."
"I know," Liz had whispered, snuggling closer to Matt.
"God willing," Rose had uttered at the same time. She repeated the words silently now as she smoothed her long skirt before going to her walk-in closet. She turned on the light, hung the new suit and reached overhead for a familiar, large rosewood box. Carefully wrapped in plastic, it was a six-sided piece with a silver filagree knob in the center of the cover and a garland of roses inlaid around the edge. Rose polished the wood as regularly as she did her furniture; the rich patina glowed.
The Dream Box. Originally intended as a kind of hope chest, it now held her personal history—reminders of her joy and pain. Even sixty years with a good man couldn't erase all the pain. In the end, however, it didn't matter because somehow, together, she and Charlie had become one.
She carried the Dream Box to the desk she'd brought from her parents' house, and carefully set it down. With a trembling hand, she lifted the lid and reached inside.
Chapter Two
Ani l'dodi v'dodi li—"I am my beloved's
and my beloved is mine.'
—Song of Songs
In the tradition of our ancestors we invite
you to join us far the wedding of our children
Rose Leah and Joseph Abraham
Sunday, December 7, 1941
12:00 p.m.
At the bride's home:
225 Hewes Street, Brooklyn, New York
Anna and Shimon Kaufman
Fanny and Mendel Rabinowitz
Rose had written every single invitation by hand. Enough for the whole family, enough for the whole neighborhood. Her papa and mama had no money to splurge on printed invitations—no one she knew did—but Rose had the energy and desire to mark the once-in-a-lifetime occasion. So, with her fine-pointed fountain pen, a supply of India ink and plain white paper, she'd become a scribe for her own wedding. Then she'd personally delivered every one of the invitations to the aunts, uncles, cousins—the whole mishpocha—in Williamsburg, Brooklyn.
And now they were all here, gathering downstairs in the big living room and in the hallway— anywhere space allowed on the street-level floor of her family's brownstone.
She hadn't seen Joe yet and wouldn't before the ceremony, not that she was superstitious. Not really. But on her wedding day, she'd do nothing to invite bad luck, and remained out of sight in the upstairs bedroom she shared with her sisters.
She started to hum, then sway, then waltz around the bedroom. '"You'd...be...so easy to love...'" Not a great voice, but today she would sing.
Joe! Her heart raced as she thought about him. She loved that man, so thankful her friend Sarah had an older brother. So delighted that Joe had finally viewed her in that special way girls dreamed about.
Rose had noticed him years before. He was everything a girl could want—well educated, handsome, funny and respected. A professional man—steady and reliable. Teaching high-school English meant a paycheck they could count on—and needed—because Rose, at twenty, had two more years of college ahead of her before she could contribute. Her family was as poor as everyone else's in the neighborhood, but all the Kaufman kids went to college. "For a good future," her papa would say, "not like now." The City University was free, a bonus for living in New York and earning good grades in high school.
"Dum...dee...dum...dum...all others above..." She grasped the bedpost and continued to sway and hum "So Easy to Love." So right! Joe and Rose. Rose and Joe. Mrs. Joseph Abraham Rabinowitz. Lucky, lucky.... A lifetime together wouldn't be enough. She'd fix up their small apartment, make it special. "Dum...dum...to waken with..." she sang softly.
Footsteps sounded in the hall. The door opened and her sister Edith stood there, apron tied around her waist, her face flushed from the heat of the kitchen. Her eyes sparkled, however, as she took charge.
"Mama sent me to help you. It's almost time." Edith walked to the closet where Rose's wedding dress hung on the door.
"Is Joe here yet?" Rose whispered, suddenly finding it difficult to speak.
Edith nodded. "The rabbi's here, too, and everyone's making their way upstairs now." She waved toward the front of the house. "We were smart to take all the beds apart and clear out the other rooms up here. There's lots more space than downstairs, especially now when it's too cold to use the back-yard."
Her sister kept chatting, but her hands were busy as usual. Edith was the oldest, their mother's first in line to assist and maybe the one most like Annie. A real baleboosteh, Edith could do anything, not that Rose and Gertie were left idle. In Annie Kaufman's house, everyone had jobs to do.
"Thank you, Edith." Rose reached for her sister. "So much cooking and cleaning..." Suddenly her eyes filled with tears, and Edith had a handkerchief ready to blot them.
"Bridal jitters? Don't worry, Rosie. I'm still your sister, and you're not going very far." Calm words filled with common sense. "I've enjoyed the cooking...I'm good at it. And I recruited a lot of help."
"Well, the stuffed cabbage smells delicious," replied Rose, sniffing the faint, tangy aroma that wafted upstairs. Not that she had much appetite right then. And not that she hadn't helped prepare the sweet-and-sour dish. Goodness, they'd made vats of it this week and borrowed refrigerator space from the neighbors to store it.
"I've already arranged the gefilte fish and chopped liver on two big platters," said Edith. "Lots of crackers, challah and rye-bread squares. Every-thing's set to serve right after the ceremony, including the sandwiches."
At the last minute, Mama had ordered platters of deli sandwiches from the kosher caterer—an extravagance Rose hadn't expected. So yesterday, with her younger sister Gertie's help, Rose had prepared the potato salad and coleslaw to go along with the sandwiches. She'd been kept busy, but in the end, Mama and Edith were in charge of the wedding.
Edith reached for the dress and turned toward Rose. "It's time."
"Yes." Barely a whisper. This is the beginning of the rest of my life. Rose swallowed hard, then thought about Joe and felt a smile cross her face.
"It's not appropriate to walk down the aisle looking like the Cheshire cat," Edith said with a laugh.
Rose twirled in place. "But I'm happy, Edith. Wish me well."
"Of course I do, you goose. Now I wish you'd get into this dress!"
Rose removed her housecoat and raised her arms, allowing Edith to slip the ivory satin over her. A simple tea-length affair with three-quarter sleeves and empire waist, the dress showed off her curves. She'd spotted it in a secondhand store and it was three sizes too large for her. But she'd liked the style, knew the bias-cut skirt would flatter her, and bought it for twenty dollars. Then her work began. She took apart every seam, cut, pinned, basted and finally sewed it together again by hand stitch by tiny stitch, including the lace trim on the rounded neckline, lace that Edith had given to her.
"Slowly," said Edith now, motioning Rose to turn around. "It looks beautiful. Perfect. Wait—I'll roll the mirror to you."
"I'll go." Rose walked to the comer of the room and studied herself in the full-length wood-framed glass—a movable piece on wheels. Her thick, dark hair, styled with a pompadour and pulled back in a low chignon, was still neat. A light powder and a bit of rouge added color to her face. She reached for a pink lipstick and looked in the mirror again.
"A bride is supposed to look beautiful on her one special day," she whispered. "Maybe I do. At least a little."
"You are beautiful, Rosie!"
"As long as Joe thinks so," she said.
Edith's laughter rang out. "No problem there. The man's besotted. Let's get this veil on you."
"Wait a moment." Annie Kaufman's voice interrupted.
Rose's mother stood in the doorway, her husband right behind her. Only five feet tall and a hundred pounds, Annie filled any room simply by being "Mama." She swept toward her daughters, her keen eyes taking in the scene.
She spoke to Edith. "How is she?"
"Mama, I'm right here," said Rose.
"I know."
"She's fine," replied Edith. "Ready to walk down the aisle to Joe."
Now those sharp blue eyes studied Rose. "Is she right, my Rosela? You're ready to stand under the chuppah and take your vows?"
"As long as Joe's waiting there for me," Rose whispered, "for the rest of my life."
Her mother nodded and kissed her on the cheek. "Good. Good. A good man is Joe." She walked back to Rose's father. "Shimon, do you have the gift?" she asked, using her husband's Yiddish name as she always did.
He reached into his pocket, and Annie returned to her daughter. "From your papa and mama, Rosela. Let's see how they look."
Rose opened the small box. Nestled inside were lovely pearl earrings. So unexpected. With shaky fingers, she put them on. Then her mama reached for the simple veil and, with a bobby pin, attached it to Rose's hair in the back. She gently pulled some of the netting down over her daughter's face, tweaked and fussed until it lay just so.
Annie Kaufman turned to her husband. "Shimon, tell the rabbi and Joseph that the bride is ready. It's time for a wedding!"
To: Joe Rabinowitz. 106th Infantry, U.S. Army; somewhere in Europe
July 14,1942
Dear Joe,
You left the States only last month, and I'm already trying to count the days until you come home. If we only knew when that will be! Training with an artillery division is a step closer to the front lines. Please be careful! In my optimistic moments, I think the war will end quickly, before you have to fight. Of course, that's my heart speaking, not the army. But who knows? We have to have hope, no matter what.
I've decided that our six months together was our honeymoon. Maybe we've set a record for "longest honeymoon ever." I miss you so much and comfort myself with thoughts of our wedding and the time we had as man and wife.
I'm not sure how or when or if the army is forwarding mail, but I haven't received anything from you since you left. Maybe a letter will arrive this week When it does, I'll save it in the beautiful keepsake box my sisters gave us as a wedding gift. I call it our Dream Box, Joe, because for now, dreams are all we have. I love you and miss you and will write to you every day.
Yours forever, Rose
August 15, 1942
Dear Joe,
A bunch of letters arrived today, and I read each one at least ten times. You describe everything so vividly. No wonder you became an English teacher! I will save the letters forever.
I have some news—news that will raise your spirits. My dear, darling Joe... I found out today that you and I are going to be parents! We have a baby "in the oven," as they say. So now you have even more reason to take care of yourself and be careful. I'm not surprised, but I'm almost sorry you've been promoted to sergeant even though the pay is better. Casualty numbers are starting to be reported here. Joe, I love you and I want you back. Don't be a hero. Be a daddy instead.
Yours forever, Rose
"Hoo-ha!" Sergeant Joseph Rabinowitz sat on his cot and leaned against the barn wall. His unit was resting in the English countryside and these quarters had served them well. A radio was playing "If I Had a Talking Picture of You," and although the sun's rays had long disappeared, he was able to read by lamplight due to the working generators.
"What's up, Rabbi?" Almost everyone had a nickname out here, and his was a term of affection—a short form of Rabinowitz. They called him either Rabbi or Sarge. A bunch of swell guys.
Joe looked at his men, felt a grin cross his face, then felt heat crawl up his neck. "For crying out loud," he said to no one in particular. By now almost every eye was on him, and he pushed himself forward, his feet on the floor, and studied the fifty faces turned toward him, half of them younger, half of them older than his own twenty-eight.
He made his announcement: "Rosie says I'm going to be a daddy."
With those words, he realized he already was— army style. He choked on his own breath for a moment until the cheers broke out, and congratulations filled the air.
"Let's get this war over with so we can all go home and be daddies," said one of the men.
Exactly what Rosie wanted. "When we get back," said Joe, "every one of you is getting a cigar to celebrate my son."
"Or your daughter," a voice called out.
"Or my daughter," concurred Joe, looking at the speaker, the one guy in his platoon who came from the same neighborhood in Brooklyn as Joe—Charlie Shapiro. Joe hadn't known him before the war, but Charlie was an okay guy. Funny. Smart. Always thinking...but knew when to shut up, too—an excellent trait.
Joe glanced at his wristwatch. "Five minutes to lights-out. Can't use up all the juice."
The men settled in. By civilian standards, it was still early, but this was army life. A physical life with early reveille, even for the men on guard duty. With that thought, Joe took a flashlight and went outside to make his own rounds, have a word with the sentries.
All was in order and by the time he got back to his cot, the barn was quieter. The men, however, seemed restless. He could hear them toss and turn, still not ready for sleep. Which meant they'd start to think about home too much, about family, about being three thousand miles away from their familiar worlds.
"I didn't get any mail today," a voice said, confirming Joe's fears.
"And I got twelve letters all at once," said another.
Joe chimed in. "The same thing happens stateside, too. Rosie went a couple of weeks without anything, and I've been writing almost every day. The mail will get here...eventually." At least he could promise them that. Mail call was the highlight of the day, and he keenly felt their disappointment when men turned away empty-handed.
"Hey, Sarge," said Charlie. "Nobody's sleeping. How about finishing up the story of the Shrew, or the one about how you met Rosie."
"Again?" Joe chuckled. He really was a daddy telling bedtime stories. Shakespeare helped, and Joe knew every play—he'd have plenty of material to help his men get through this war. And as far as Rosie went…well, he could talk about her for hours.
He heard the others quiet down. As an avid reader, he thought the word story had a magic all its own. Here he was, in the middle of England, with a platoon of girl-starved soldiers who wanted to hear a story. It sounded crazy, but war was crazy, too.
"I'd never paid much attention to my sister's friends," he began, "until one day when Rosie dropped by to see Sarah. I'd answered the doorbell like I'd done a hundred times before, and there she was—dark, wavy hair with a curl on her cheek, and a smile so familiar to me, and yet, not familiar at all. I stared at her and couldn't say one single word. Not a sound. Then she looked up with her big brown eyes, and my heart took off like a..."
"...a racehorse at Aqueduct," chimed in Charlie. Joe glanced at the soldier and laughed. Not very romantic, but...
"...and your heart took off like you'd never seen her before..." finished Eddie from Pennsylvania.
"That's right," Joe said softly, his laughter gone. "Like I'd never seen her before. And maybe I hadn't."
Twenty minutes later, most of the men had fallen or almost fallen asleep. Joe's eyelids felt heavy, too. He stretched out on the cot, and in moments, he was with his Rose.
To: Sergeant Joseph Rabinowitz, 106th Infantry, U.S. Army; Belgium, Europe
January 21, 1943
Dear Joe,
Our beautiful daughter, Susan, was born yesterday in a real hospital, not in the house. We are both fine. Mama is very happy to have a granddaughter named after her mother of blessed memory, Shifra, so thank you for agreeing. Your parents have already visited. Susan weighs six pounds, seven ounces and is a hungry little piggy, ready to nurse whenever I offer. I'm glad.
My brother, Aaron, took a picture of me when I was big in the family way so you'd be able to see what I looked like when you get home. God alone knows when that will be. My hopes rise and fall with every news report. The German defeat in Stalingrad last month sent my heart soaring again.
By the way, I did pay a visit to Charlie Shapiro's parents. Amazing that he lives in the area but neither of us knew him. His parents were happy to see me and eager to hear any news from the front. They are an older couple, and Charlie has no brothers or sisters. I could feel the stillness in their house, as though time has stopped and they are waiting. I saw the fear in their eyes. Maybe they could see the same in mine. I'll try to visit them again when the weather is better.
I'm tired now, but will write tomorrow and every day.
Yours forever, Rose
P.S. I'm giving baby Susan a kiss from you right now!
To: Sergeant Joseph Rabinowitz, 106th Infantry, U.S. Army; Belgium, Europe
June 5, 1943
Dearest Joe,
Last night Papa and Edith came to visit me at our apartment. When I opened the door and saw their faces, I knew something was wrong. Mama is sick. The female-type cancer, and Papa asked if the baby and I could go back to live with the family. Everyone else has to go out to work, and Aaron's still in school. I hope you don't mind, but I have to take care of her.
I will put our belongings in boxes, and to tell the truth, there's not too much to pack. The money we get from the army I use for rent and food. Thank you for the extra coupons...
Rose paused in her writing to wipe her tears. Just a year and a half ago, she was the happiest woman in the world. Now her world had unraveled. Mama would not get better. She knew that simply by looking into Papa's eyes. Maybe Joe would die, too. She tiptoed to the baby's crib, leaned over and nuzzled her five-month-old daughter. Then she inhaled the distinctive fragrance of talc, shampoo and...baby.
"Sweet, sweet girl," she murmured. "You'll make your grandma smile, and maybe that will be the best medicine of all."
She glanced at the framed photo of Joe that Aaron had taken before Joe had shipped out. He was so handsome in his uniform. She and Susan started every day with a "Good morning, Daddy," and ended every evening with a good-night. When Joe returned, Susan would know her daddy.
***
Joe sighed and leaned against the wall of the foxhole, four feet beneath the surface. In his hand, he held a two-month-old letter from Rose that he'd received yesterday. It seemed his wife was fighting her own war on the home front. He prayed for her, his baby and his mother-in-law. He and Rose could find another place to live after he returned; in the meantime, however, his girls were better off surrounded by family. Certainly Annie Kaufman would be happy to play with her granddaughter regularly. In recent times, everyone focused on war casualties and yet death took its civilian toll, too.
He glanced around him, noting his men stretched out along the deep trench. Surely not as comfortable as a barn, but his troops didn't complain very much anymore. Their spirits were lighter since the day they'd made their pact.
His men had faced facts. In war, some would live and some would die. Joe's platoon had agreed that if one of them died, the survivors would contact the family of the fallen soldier and attest to his quick death on the battlefield. An instant ending. No pain and no suffering—regardless of the truth.
Joe didn't know who'd first voiced the idea, but he could picture the light that shone in the eyes of every man. He remembered the handshakes that clinched the deal and the spoken reminders before every military action since that time. The pact eased their hearts because, in the end, it would ease the hearts of the people they loved. And now every soldier kept a list of names and contact information with his belongings.
Maybe they'd all come out intact. Not likely, but who knew? Joe was optimistic again. It was summer now and much easier for the men to contend with heat rather than with the cold and snow. The North African campaign had gone well, and then an Allied armada had invaded Sicily last month on the ninth of July. Last week, Palermo fell to the Allies. He believed Italy's surrender would occur soon. One step closer to ending the war.
To: Sergeant Joseph Rabinowitz, 106th Infantry, U.S. Army; France, Europe
December 7, 1943
Dear Joe,
Our second wedding anniversary is a sad time here. Mama was buried yesterday in cold, hard ground. I have no more tears left. But I think of you, and my heart fills up with love, so maybe love is stronger than grief. Please take care of yourself and come home safely. Susan will run to you—if she can stop falling down every time she tries to walk! Nothing stops her. You'd be so proud.
It's late, but I can't sleep yet. A lot of people came to Mama's funeral, and of course, we are all sitting shiva. The house was filled with visitors last night and again tonight wanting to extend their condolences. I'm sure it will remain this way all week. You can tell Charlie Shapiro that his parents stopped by. I was surprised to see them since I've only visited twice. I guess you and Charlie brought us together. And of course, there's Susan. They fell in love with her when they saw her last time.
On this street, black crepe hangs on two front doors. I saw one dreaded army telegram being delivered on a sunny afternoon when I took Susan outside for some fresh air. I don't ever want a telegram, Joe. Please take care of yourself.
Yours forever, Rose
Cold. He was so cold, he and his men. The army had issued boots and that helped, but living in a foxhole was difficult in the winter. Two months ago, Eisenhower had been named Commander of the Allied Expeditionary Force in Europe, and Joe had thought they'd move forward. But now, in February of '44, even after a massive bombing campaign of German aircraft factories, the enemy was still able to produce weapons.
France was occupied, and Joe and his men were in Belgium again, poised to go where most needed. He wanted action. He wanted victory. He was not alone.
If only he could write Rosie a letter! He always felt better getting his thoughts down on paper, sharing them with her, but his hands were too stiff from the cold to hold a pen.
From a little way down the foxhole, he heard a voice singing, '"If you knew Susie, like I know Susie..." Someone else joined in and Joe smiled. Charlie Shapiro could sing, a real strong tenor. With a couple of others in the troop, he'd created an informal chorus. Great for when they had a twenty- four-hour stay at a rest camp, but while hugging a rifle in a trench?
Maybe the younger man was sticking it to the enemy—in his own style.
To: Sergeant Joseph Rabinowitz, 106th Infantry, U.S. Army; Belgium, Europe
August 12, 1944
Dear Joe,
I hope you are able to get mail. After our boys' massive landing on the French coast in June, your letters have been a rare treat. I continue to write each day, hoping some of the letters will get through.
Your daughter is a pistol. She can even raise a smile from her grandfather who has not smiled since Mama got sick.
Susan's eyes have remained blue, and her strawberry-blond hair curls in ringlets. When she grins, this sweet dimple appears. More important, she says "Da Da " whenever she sees your picture. Then she says, "Play!" and hits the photo. Susan and I will be waiting outside in front of the house when you return. You'll come walking down the street as handsome as ever, and we'll run to meet you, lightning quick, before you get five steps from the comer. Can you picture the scene like I can?
Until that day, I'll keep dreaming. And you dream, too.
Yours forever,
Rosie and Susan
Joe folded the August twelfth letter he'd been rereading and put it in his back pocket She'd have to dream for both of them now. It was December 15, 1944. He was in new territory, the Ardennes Forest on the Belgian-German border, and he had no time for dreaming. He looked around at the heavily treed woods. His was one of only three divisions holding the area—a thin line for the area they patrolled. But the staff commanders thought it wasn't a likely spot for a German offensive.
Joe wasn't as concerned about fighting as he was about the bitter cold. Snow was on the ground, flakes in the air. Some of the locals had called it the snowiest weather in memory, but he knew what to say to keep his men alive overnight: "Keep moving. Stamp those feet. Don't sleep, or you'll freeze your asses off."
His unit's heavy machine guns dotted the land. Every troop also had a rifle. He was proud of them. They'd worked together for a long time now, had met combat in France and then returned to Belgium where, last month, they'd had a twenty-four-hour break at a rest camp. Oh, that had been fine. An easy chair, soft lamps, warmth indoors—just to remind the men what civilization felt like.
Now they faced a chilly night in the Ardennes. What would tomorrow bring?
2007, Long Island, NY
In her bedroom, Rose reached into the Dream Box again. She unfolded a piece of paper and spread it out on the desk.
WESTERN UNION
FROM THE UNITED STATES DEPARTMENT OF THE ARMY
WE REGRET TO INFORM YOU THAT YOUR HUSBAND
JOSEPH RABINOWITZ
DIED IN THE SERVICE TO HIS COUNTRY STOP
IN EUROPE THE ARDENNES STOP
SINCEREST CONDOLENCES 
She needed a cup of tea. Hot. Steaming hot. Gathering the Dream Box, the letters and the telegram, she carried them with her to the kitchen, placing them gently in the center of the table. Then she filled her ever-present kettle with water and turned on the gas stove.
Visiting the Dream Box usually exhausted her, so she hadn't made a habit of delving into it in recent years. It wasn't that her grief for Joe over-whelmed her anymore—her pang was for a young man she once knew, a fine man who'd died too soon, and that was the crux of her sadness. War heroes always died too young.
Would that be dear Matthew's fate, too? The possibility made her heart almost stop beating. Her arm trembled as she lifted the whistling kettle. Boiling water splashed on the counter when she started to pour.
"Rosie, be careful!" Charlie rushed to her side and eased the pot to the stove.
Startled, she glanced up. So lost in her thoughts, she hadn't even heard Paul and him come in.
Charlie glanced at the table. "The blast from the past almost did you in, Rosie."
She shrugged. "I'm fine. I can take it. But I'm glad you're here."
His eyes warmed, his smile widened. He kissed her. "I'm glad to be here."
There was a time, however, when her husband had hated the sight of the Dream Box, when it represented everything wrong in their marriage. Thank God those days were over.
"Oh, Charlie," she cried, "I don't want Lizzy to go through what I did." She heard the anguish in her tone. The men heard it, too. Paul's complexion paled—Liz was his only child.
"Don't borrow trouble," Charlie said sharply, reaching for the telegram, handling it with a gentle touch. "We didn't know it at the time," he continued, "but it was the Battle of the Bulge, and we suffered the worst losses of the war."
"But thank God you survived," whispered Rose. "God, alone, knows how." Charlie looked directly at her. "It was a December afternoon, and I was standing less than ten feet from Joe, aiming my machine gun at the enemy, shouting at my squad. We were fighting hard, but our division took the brunt of the counteroffensive, and—" he shook his head "—I heard him. I heard Joe giving orders, encouraging the men, and then...I glanced over and...I saw him take a hit. I saw him go down. His face…the surprise...but he died instantly. No pain. No suffering."
Rose patted his hand. "I know, Charlie. I know. You told me many times."
"And I'll never forget," he said softly. "I lost friends, my buddies." He paused, and Rose could hear his quick breaths. "I walked over five hundred miles after I was taken, and...and I saw things," he whispered, "no one should ever see."
Rose glanced at the table where she'd placed her and Joe's wedding invitation, her pearl earrings, the picture of her pregnant with Susan, a lock of Susan's hair in a glassine envelope, the folded letter Joe had placed in his pocket before he died and the army's teletyped message, still glued to the yellow paper it had been pasted on.
She tapped the telegram with her finger. "When this arrived, I didn't hear the doorbell ring," she said. "But when Edith came upstairs to get me and could barely speak…I knew my life was over."
"Except it wasn't," declared Charlie in a strong voice. "Life goes on."
But she hadn't understood that. Not back then.