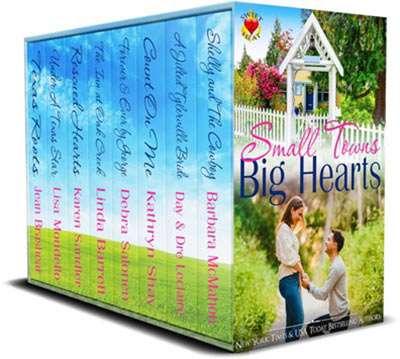 Small Towns Big Hearts
Finding love in a small town—where everyone knows your business before you do!
Small towns are all about family, whether by birth or of the heart, and each of these small towns and their heartwarming stories will embrace you, charm and delight you. They'll spirit you away to the magic of community, busybodies and all!
Texas Roots by Jean Brashear
Talented chef Scarlett Ross flees notoriety to meet a grandmother she never knew she had in Sweetgrass Springs, a town kept alive only by her grandmother's determination and carried on the strong shoulders of sexy cowboy Ian McLaren. The city girl discovers a surprising yearning to sink roots, but she is terrified that the secrets she's hiding will endanger everyone she's come to love.
Under a Texas Star by Lisa Mondello
Military hero, Tom Garrison, is shaken when single mom Jenna Atkins wakes him in the middle of the night begging for help for her sick young son. Both Jenna and Tom have scars but can they open their hearts to love again?
Rescued Hearts by Karen Sandler
After escaping her abusive past, Sara has no interest in a relationship. Instead, she's focused on her equine therapy program for kids. Keith is so stricken with grief that happiness seems a thousand miles away. Then a young girl in Sara's program brings her and Keith closer. Can they conquer their demons and find the love they've both been longing for?
The Inn at Oak Creek by Linda Barrett
Ten years after a horrific skiing accident left her unable to have children, Mollie Porter's second career is thriving as Manager of the Bluebonnet Inn. Sam Kinkaid has his own personal and professional problems, and to Mollie's dismay, he's the new owner of the charming inn. Their low opinions of each other soon change to admiration and…more. Until Sam reveals how much he wants a family of his own. If Molly confesses the truth, will she be headed for another crash?
Forever and Ever By George by Debra Salonen
Single mom of twins, Kara, knows to keep her eye on the prize. She learned a long time ago not to entrust her dreams to any man—especially one rebounding from a brutal divorce. Brad's new normal is circling the drain. Even the family dog knows it. Risking his very bruised heart is not an option…until his matchmaking Great Dane takes action.
Count on Me by Kathryn Shay
No way is Zoe Caufield giving Kurt Lansing another shot at hurting her. He broke her heart so badly she hasn't yet healed after six months. But Kurt has other ideas. He knows what he did to her, but she's the love of his life and vows to make up for his mistake.
A Tylerville Jilted Bride by Day Leclaire
Abby Rose has known nothing but bad luck since she was left at the altar. The closest she's come to finding happiness since is a hot rebound relationship with Irish actor, Chase Falcon—but he disappears. Abby is now holed up in her Tylerville Bed and Breakfast with nothing but time and room for a lot of bad, bad choices. When an ill-wind blows in the super-sexy and talented actor who broke her heart, he's wearing the scars of a terrible workplace accident and no memory of her. Now all bets are off.
Shelly and the Cowboy by Barbara McMahon
Shelly loves the city, not the wilds of Wyoming. So, when she inherits the family ranch, selling it as fast as she can and returning back home is a no-brainer. Yet finding a buyer will take time. The only one to help is the last cowboy on the ranch. What happens when the cowboy walks away?
Download SMALL TOWNS BIG HEARTS and step into eight, unique, small town settings crafted by New York Times, USAToday, and bestselling authors. Come for the romance, but you'll never want to leave!