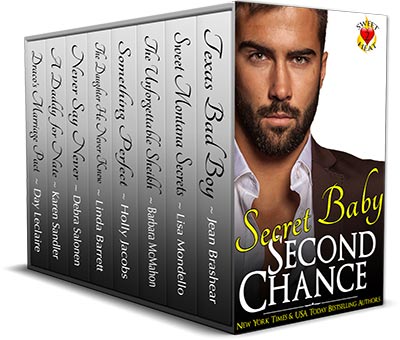 Secret Baby Second Chance
A Secret Baby/Second Chance/Bad Boy/Small Town/Cowboy Romance Box Set


FREE in KU or 99 cents to buy!

Secrets have a way of catching up with you, but so does love…if you let it.

Accidents happen, and secrets may not come to light for years. Whenever they're revealed, lives are forever changed, but the power of love can heal the deepest of hurts. Come experience these heartwarming, emotional stories from bestselling, award-winning authors—stories you will take to your heart…and never forget.

Draco's Marriage Pact - Day Leclaire

When a one night stand results in a secret baby, can enemies become lovers by creating a marriage pact?

A Daddy for Nate - Karen Sandler

When Jameson leaves Folsom Prison, he returns to Hart Valley, the one place he'd ever considered home. Within minutes, Nina blows up his world when she reveals their one night of passion brought a beautiful little boy into the world. Jameson insists on being part of Nate and Nina's lives despite the years of tragedy and personal sacrifice that separated them. Can their pint-sized miracle somehow unite them in love?

Never Say Never - Debra Salonen

Lisa loved Joe once upon a time. They had a moment. But Lisa chose to marry Joe's brother, her son's father. Or did she pick the wrong twin?

The Daughter He Never Knew - Linda Barrett

Jason loved her but left her after his twin brother died on the night of their senior prom. "Tell Lila not to wait…"

Nine years later, when Lila is ready to marry someone else and give her daughter a family, a new message arrives. "Tell Lila I'm coming home."

Something Perfect - Holly Jacobs

They were the perfect couple…Until they weren't.

Maybe true love can bring them back together.

The Unforgettable Sheikh - Barbara McMahon

Three thousand miles away and ten years ago was the last time Chloe saw the man. Now Sheikh Karif bin Shakirah is face to face with her and all she can think of is the daughter he know nothing about. Can they ever overcome the past or will heartbreak and betrayal be too strong to surmount?

Sweet Montana Secrets - Lisa Mondello

They say time heals all wounds, but time doesn't make you forget who you were.
Ten years ago, Hunter Williams' life was a mess. Even so, he hadn't expected to be completely taken by Julie Samuel, a beautiful young woman who took riding lessons at the ranch he worked at. But their love hadn't been enough to conquer his demons or the secret she carried. Ten years later, can their love survive the truth and be rekindled to the blaze it once was?

Texas Bad Boy - Jean Brashear

Everyone thinks Lacey DeMille is the next thing to royalty, a society girl with beauty, brains and money—but sexy Texas bad boy Devlin Marlowe knows better. Twenty years after being exiled in disgrace for daring to want her, the boy from the wrong side of the tracks has sweet revenge in his grasp...for only he knows that her whole life is built on a lie.

And revenge may be more costly than either of them can imagine.