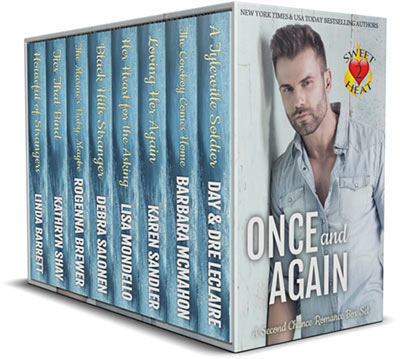 Once and Again
After heartbreak, how do you put your heart on the line again? Having love in your life is everything. Walking away from a do-over might save pain, but isn't a second chance at love worth the risk? Dive into these eight full-length second chance romances and be swept away.
Houseful of Strangers by Linda Barrett
When an injury forces veterinarian Eric Mitchell to seek help with his rural practice, he never expected a city vet to apply. Dr. Alison Truesdale is well qualified but rarely smiles and seems reserved around Eric's young son. Then an abused runaway turns up in desperate need. As Eric and Alison work together to give her a safe haven, can they all build a new loving family?
Ties that Bind by Kathryn Shay
He's a hotshot lawyer who seems to have an idyllic life with a younger woman on his arm. She's a Family Court Judge who's forgotten her ex and captures a younger man's attention. So why can't this former couple be in the same room without sparks flying?
The Marine's Baby, Maybe by Rogenna Brewer
She's having his baby...and they're about to meet for the first time. Thanks to an unfortunate mix-up, her baby's father is her late husband's half-brother. He won't turn his back on his baby or his baby's mother. Falling in love is the last thing they're expecting.
Black Hills Stranger by Debra Salonen
After Jonas Galloway broke Remy Bouchard's heart in high school, he has a lot of nerve asking for her help. But his daughter has disappeared and Jonas wants Remy to use her "gift" to find Birdie. Remy made a vow to start fresh in the Black Hills. But how can she ignore the recurring nightmare of a child in trouble? Or the plea for help from her first—her only—love?
Her Heart For The Asking by Lisa Mondello
Eight years ago, Mandy Morgan swore she'd never step foot in Texas again after Beau Gentry left her for the rodeo circuit. Now a family illness has brought her back. She never dreamed the first person she'd see in town was the one man she'd never stopped loving. But now they're both in Texas, and Beau is going to do all he can to win back her love.
Loving Her Again by Karen Sandler
When Tomás Herrera's ex-wife, Becca, applies for a job with the program he's running for foster kids, he wants to show her the door. But there's more at stake than his pride—there's what's best for his students, not to mention his daughter's needs after her mother's death. Becca leaving him may have broken his heart, but he soon realizes his love for her never faded.
The Cowboy Comes Home by Barbara McMahon
Ten years ago, Sara and her high school sweetheart, Ethan had a tragic falling out. Those past wounds haven't healed, but with Ethan inheriting the ranch adjacent to hers, they must learn to coexist peacefully. Or is there something greater in their future?
A Tylerville Soldier by Day Leclaire and Dre Leclaire
When a private investigator shows up on Dan Walters' doorstep with a pair of baby booties and a mysterious letter, everything unravels. Drawn back to the hometown he abandoned for a career in the army and the only woman who ever truly had his heart, Dan discovers the life that could have been his. Deception and a concealed pregnancy change everything for this soldier and the woman he left behind.