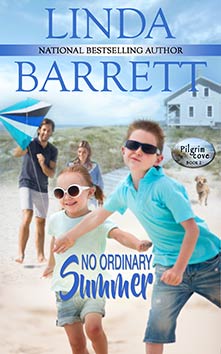 No Ordinary Summer
A Pilgrim Cove novel - Book 2
In the coastal town of Pilgrim Cove, strangers are welcomed, and everyone else takes a front row seat to watch a love story unfold.
Fun is what Shelley Anderson is trying to provide for her two young children when she rents the first floor of Sea View House a year after a painful divorce. The kids haven't been adjusting well, and the house is perfect.
She's not sure about perfection, however, after she meets Daniel Stone, the man who's renting the top floor of the house. A man who's trying to find his balance after losing his wife. Her neighbor definitely wants to be left alone. He's less than thrilled by the instant rapport between his beautiful golden retriever and her two active kids. And he's definitely shaken by the rapport that springs up between himself and Shelley.
When Shelley's ex shows up, threatening to take the kids, Shelley must protect her little family while also protecting her budding happiness with Dan.
With their painful pasts, will Shelley and Daniel find the courage to love again? It's a question only they can answer.
***** 5 Stars!: CataRomance Reviews 
"Talented Linda Barrett has superbly written another exceptionally gratifying story, NO ORDINARY SUMMER. After the first book, THE HOUSE ON THE BEACH, I was hooked and couldn't wait to return to Pilgrim Cove ... Daniel is one of my all time favorite heroes because he is intelligent, intuitive and intriguing ... Shelley is a formidable woman with a mind of her own ... I lost myself in the story...NO ORDINARY SUMMER is no ordinary summer read and I am happily adding this book to my 'to be read again and again' shelf."
Reviewed by Donna Zapf
***** 5 Stars!: HUNTRESS REVIEWS Another winner by author Linda Barrett
"Readers will find themselves never wanting to leave Pilgrim Cove and the people who live there. You simply could not wish for a more witty and fantastic bunch of people. Don't pass up on this incredible read!"
Reviewed by Detra Fitch
Chapter One
"Are we there yet?"
Shelley sighed and glanced into the rearview mirror of her five- year-old Toyota Camry. Both kids were squirming in their seatbelts despite the books, tapes, and games she had brought. They'd stopped for a fast food snack along the way, a very infrequent choice when Shelley was in charge. But she wanted to provide Emily and Josh with a fun day. And if that included shakes and fries, so be it.
"Look out the window and tell me if you think we're almost at the beach."
Silence reigned for a moment, before Josh said, "Well, the trees are shorter than ours. And there's sand along the side of the road."
"I see sand," said Emily.
"There's a sign coming up on the right," said Shelley, slowing the car. "Can you read it, Josh?"
"I know how to read, Mom," Josh replied, exasperation in his voice. "It says, 'Welcome to Pilgrim Cove. Population: Winter- 5000; Summer-Lots Higher.'"
Shelley chuckled. A town with a sense of humor. "I have a good feeling about this," she said. But her son didn't answer. She glanced into the mirror again and sighed. Josh was as sullen as when they'd left the house. Of course, he'd been hoping his dad would surprise him with a call or a short visit even though it was Carl's "off" weekend. Finally, Shelley suggested he call Carl. Josh's expression had reflected his hope against hope. But in the end, he'd taken the chance and dialed.
Shelley had seen the disappointment on his face and immediately blamed herself. Maybe she shouldn't have encouraged him to call his dad. It was so hard to know exactly what to do! In the year since the divorce had become final, she'd tried so hard to protect the children. A year of counseling, play-group therapy and keeping their lives and routines as normal as possible. And now Josh was sitting in the back seat of Shelley's car at the end of a two-hour drive from Boston, his unhappiness visible to everyone. Her son didn't want to acknowledge "on" and "off" weekends. Josh wanted the family the way it used to be.
She'd been so damn naïve when she'd met Carl in the collee bookstore. He'd been a confident, ambitious law student aiming for a big career and she, an undergrad working in the store, nose always in a book, mind on her grades. He'd pursued her after their first encounter. Won over her hardworking parents, bringing them hope for their son when her hormone-raging adolescent brother started looking up to Carl as a role model.
And her brother had straightened out, was now married with kids. Carl still took the credit when her folks spoke of those days. He knew how to play up to her family just as he knew how to play up to a jury.
"We're on Main Street now," said Shelley, picturing the map she'd studied the night before. "A very long street that continues down the entire peninsula. Lots of waterfront here. The Atlantic on one side and Pilgrim Bay on the other."
Josh grunted.
Shelley sighed again. She felt like the head cheerleader of a very reluctant team.
"Come on, Josh. Help me find the place. Quinn Real Estate, on Main, past Abalone Street." Shelley slowed down again to read signs as they crossed intersections. "Neptune, Conch, Dune, Abalone!" she recited, tapping the brakes again. "Good. We're almost there."
"I see the place, Mom. On the right."
"Good eye, Josh. Thanks."
Her son gave a weak smile, and Shelley decided right then to learn every baseball term useful for building a boy's confidence. She was sure it was the "good eye" that coaxed Josh's small grin.
She pulled into a spot in front of Quinn Real Estate and Property Management, as glad as her children to have arrived. Stepping into the sunshine, she closed her own door, walked around the car and helped Josh and Emily exit the back seat on the curb side.
"Okay, troops. Let's see if Mr. Quinn really does have something we can afford right on the beach." During their phone conversation earlier in the week, Bart Quinn had been encouraging without making any promises. Shelley was willing to accept any house in the vicinity of the beach, no matter how tiny. An uninsulated bungalow would do. She was convinced a change of scene and a change of activities were what they all needed. A summer at the seashore would certainly provide those.
#
Bartholomew Quinn leaned back in his oversized leather desk chair and rolled it and himself to the large open window. A spring breeze tinged with sunshine and ocean had been teasing him all morning, and he'd resisted its lure until now. He closed his eyes and inhaled the best perfume in the world. If he were a younger man, he'd close shop for an hour and hit the beach in full stride. In fact, he had the urge to do it now. At seventy-five years, he still walked with a spring in his step! Plus a twinge in his knee.
He continued to dream, his mind's eye like a movie camera, capturing every foot of shoreline on the peninsula. He knew the shore in every season, the ocean in all her moods. The fair ones and the foul. Just like he knew every street in the town. He chuckled at the thought. Since he'd lived in Pilgrim Cove all his life, he'd be hard pressed not to know every street, road and thoroughfare. He'd be a lousy real estate agent, to boot!
Finally opening his eyes, Bart stood up and peered out the window. Main Street was quieter today than it was in the middle of the week. Most of the businesses were closed on Sunday--Parker Plumbing and Hardware, the Pilgrim Cove Savings & Loan--but not Quinn Real Estate at the start of the busy season. He and Lila, his granddaughter, had been answering a constantly ringing phone since the beginning of March as people yearned for sunshine and summer vacations after a long New England winter.
Bart sighed with satisfaction. Life had been good to him. His parents had emigrated from County Cork long ago with not even a potato in their pockets, and now their son ran the business they'd established--the oldest and largest real-estate sales and property management company in the county--in partnership with their great-granddaughter! Now, how many families could boast that?
He turned from the window and started to push his chair back to the desk, but a slamming car door made him pause. Bart moved back and stared at the street directly outside. A woman was gathering two children from the back seat of a sedan. He glanced at his watch. Probably his noon appointment arriving at almost one o'clock.
He watched as she bent close to the children, talking or listening, he couldn't tell. She had a cap of short dark hair, red highlights dancing whenever she moved her head. Then she straightened up, took a child's hand in each of hers, and looked at the sign on the agency's front door. She didn't move for a second, in fact stood very still as though plucking up courage, before leading the children up the few steps to the doorway.
Bart shook his head. Poor girl. Could be she'd gotten lost. She certainly looked lost. Lost and scared. But also determined. A not-so-brave mother lioness.
"We'll see. We'll see," he murmured, checking his appointment book for her name, before walking out of his office to greet her. He turned right and right again ten feet down the corridor toward the front of the building. The distance to the front door was the price he paid for the corner office with the cross ventilation, and he didn't mind a bit.
His granddaughter stood at the entrance, already chatting with their visitors and leading them down the hall toward him. "Oh, there he is," Lila said. "Granddad, this is...
"...Shelley Anderson," Bart completed, extending his hand to the young woman with the shiny hair. "Welcome to Pilgrim Cove."
"I'm sorry we're late," she began, a tiny frown creasing her brow, a shadow darkening her eyes.
"No matter," said Bart quickly. "We're a little slow today anyway. In fact, right now is better for me". Lila's astonished expression would have made him laugh if he'd allowed himself to look at her. So, he didn't. Bart knew people, had learned to trust his instincts years ago, and still believed in a man's gallantry to women. Right now, Bart would have said anything to put Shelley Anderson and her children at ease.
He watched Lila make a bee-line back to her office, and then turned toward the boy and offered his hand. "And you are...?"
"Josh." One word, sullenly given. Limp handshake.
"Fine jacket you have. My great-granddaughter plays baseball, too."
Now, that got the boy's attention. His hazel eyes came alive.
"But she's a girl!"
"That she is, boyo. She's a girl on second base."
Bart let Josh mull that over while he turned to the beautiful little girl hiding behind her mother's legs with her thumb in her mouth. He walked to Shelley Anderson's side and bent down until his knee protested. "And who's this little princess?"
A pair of chocolate brown eyes, as big and round as any he'd ever seen, peeked up at him. Bart glanced up at the mother, but her attention was solely on her daughter.
"Are you Esmeralda Hossenfeffer?" asked Bart with a wink as he looked at the little girl again.
A tiny giggle emerged from behind the child's thumb. A sweet sound.
"Are you Isabella Farmer-in-the-della?" The gentle teasing came easily to him, a man surrounded by family, where five grandchildren and one great-grandchild had filled his daily life from the moment they'd been born.
The thumb popped out of the girl's rosebud mouth, and she shook her head fast.
"Are you...
"I'm Emily Joy Anderson!"
Bart snapped his fingers. "That's just what I thought all the time," he said, pleased to see the spirit hiding inside the child. He extended his hand to Emily, and she took it before disappearing behind her mother again.
Bart centered his attention on Shelley Anderson, who sported a lovely smile as she hugged her daughter. "You have two beautiful children, Mrs. Anderson," he said.
Her smile widened and she nodded. "I certainly do. They're beautiful, they're smart, and well, they're just the best". She kissed them each on top of their heads.
Josh made a face. "No mushy stuff."
"Sorry," said Shelley in a light, musical tone.
Bart chuckled under his breath. The woman wasn't sorry at all. No shadows darkened her eyes now, no frowns marred her smooth forehead. And he silently applauded. It was a pleasure to see some confidence overtake the worry he'd seen on her face earlier.
He led the little family to his sunny office and invited them to sit down. He was ready to learn all he could about Shelley Anderson and her children. Not because he was an old gossip with time on his hands. Not at all. In fact, his meeting with this family carried great responsibility.
For twenty-five years, Bartholomew Quinn had been charged with leasing a particular waterfront property on a sliding financial scale when appropriate. He answered to the William Adams Trust, named for the founder of Pilgrim Cove, about his choice of tenants. And so far, he hadn't missed a step in identifying those who needed a bit of fiscal help along with a respite from daily life. Sea View House provided the answer for folks recovering from emotional exhaustion no matter the reason.
The instincts of a lifetime had awakened when Shelley Anderson had called for the appointment. Now they crackled along every nerve. Sea View House was certainly what she needed; he hoped it was what she deserved.