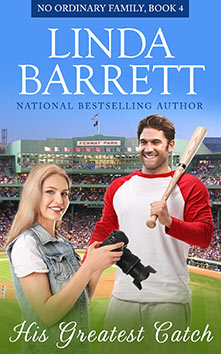 His Greatest Catch
A No Ordinary Family Novel - Book 4
Andrew Delaney, power hitter and centerfielder for the Boston Red Sox, has a great care-free life, an off-season place in Miami and siblings he can count on. Until they serve him up at a bachelor auction for charity. Not the kind of spotlight he enjoys. He's in no position to refuse, however, when the event will benefit his family's newly established Delaney Foundation for Children.
Shannon Murphy Roberts is a young military widow with a toddler who returns to Boston to be near family—and to resurrect her career as a photographer. She's also an old high school friend of Andy. When they reconnect, he implores her to "save him" by bidding on him at the auction. "You'd be perfect…."
Shannon has plenty to handle as a single mom with a mortgage on a small house and her job in an art gallery. Not to mention her in-laws who seem to resent every decision she makes.
While her grief is easing, a new social life is not even on her radar. Helping out an old friend, however, seems safe enough.
Heroes come in many forms. And love has no rules the second time around—or the first. All Shannon and Andy have to do is figure it all out!
Chapter One
Robert and Grace Delaney
Heaven
The Universe
Dear Mom and Dad,
Do you know what a shrink is? I visit a shrink every week now, but I don't talk a lot. I'd rather talk to you, so writing is better. I miss you so much. We all do. Can you hear us talking down here on Earth? Emily thinks you can. So, every night, she plays Amazing Grace on her violin. Just for you, Mom.
Dad, remember how you played catch with Brian and me in the backyard every night? Well, now we're baseball players—we're on leagues every spring and summer. I wish you could coach! Or at least be in the stands and see us play.
I'm mostly sad inside, but sometimes, I'm more mad than sad. Stupid accident! Stupid ice! Only one thing is good. Brian and me. We stick together. I'm glad we're twins.
I love you to pieces. Maybe one day, I'll hit a home run all the way to heaven.
Your son,
Andy
P.S. I'll write again soon.

Eleven-year-old Andrew Delaney folded the letter and searched his oldest sister's desk for an envelope and stamp. He knew exactly where to look. Writing had become a habit, and he was happy Lisa always had stamps lying around.
He walked into the hallway and slipped the envelope amid the outgoing mail where no one would notice it.
##
Twenty-one years later…
Boston liked its holiday weather crisp and clear, and that was just fine with Andrew Delaney. He inhaled the clean air with a quick nod of approval as he left the printing shop mid-afternoon and hoisted the heavy box to his shoulder. He'd become the family go-fer. Reduced to being the family go-fer. According to his sisters, it was his own fault for being single. He had more freedom to come and go at odd hours.
He chuckled, recalling how his mock complaints were laughed at by his family. Only his oldest sister, Lisa, had said, "you're not the go-fer, Andy. For this event, you're the go-to guy! We want to raise megabucks for the foundation." She still acted like a mom.
He didn't mind being the errand boy for next week's gala at all. The box he carried contained attractive program booklets honoring all donors as well as guests attending the affair, and had his seal of approval.
Any organization raising money for kids without parents would be at the top of the list for him. But this one was special. The Robert and Grace Delaney Children's Foundation. He and his siblings had created it in memory of their own parents and were on the board of directors.
He turned the corner and started down historic but trendy Newbury Street toward the parking lot where he'd left his SUV. People roamed up and down the block of brownstones, searching for the boutiques, eateries or specialty shops on their lists. Actually, a pretty sight full of colorful parkas, knit caps and the holiday sound of jingling bells and calls of good cheer. Shop doors opened and closed as he snaked his way toward his goal. Shouldn't all these shoppers be home cooking on the day before Thanksgiving and leave the sidewalks less crowded for him? Ha! Fat chance.
He began humming a holiday tune when the door of an art gallery on his left started to open. Moving to avoid it, he saw a woman trying to maneuver a baby stroller onto the street. He grabbed the door handle and held the door open.
"Thank you," she said, looking up at him. "Thanks a…lot." Her blue eyes narrowed. But he'd recognized her immediately.
"Shannon? Shannon Murphy?"
A smile slowly crossed her face; her eyes brightened. "Andy Delaney! How nice."
"And you're still batting a thousand. You never mixed Brian and me up back in high school," said Andy. "One of the few who didn't."
She pushed the carriage further onto the sidewalk, and he released the door. "Going my way?" she asked, maneuvering the stroller.
"Sure," he replied, not caring exactly where she was headed.
The carriage rocked. "Out, out," came a high-pitched voice.
"Whoa. That's sounds like a command." Andy peeked down at the toddler, noting the same blue eyes as her mom. "Cutie," he said.
"And a handful."
"And how old is this little handful?"
"Two-and-a-half. Actually, almost three. We're doing some errands today, and the gallery was on my list. A quick visit."
"Not a usual place for a baby carriage, huh?"
"Today wasn't usual. My holiday bonus was ready early and I was anxious to pick it up. I work there."
The baby looked at Andy, her eyes narrowing. "Mom-my?" she wailed.
Shannon leaned over the stroller. "This is Andy, honey. Andy is my friend."
"Fwend?"
"Yes. An old friend." She patted Andy's arm.
That's all it took for a change to occur. A smile appeared first, then the toddler raised her arms. "Mommy, up, up."
Once in Shannon's arms, Maddie studied Andy, then looked at her surroundings. "Doggy! Look, Mommy." She pointed, then exclaimed, "Two doggies!" She wriggled with excitement and caught Shannon by surprise.
"Back in the stroller for you, Maddie. We're almost at the car anyway." She leaned over the carriage.
"Hang on a sec. Let's give her a break," said Andy. "If you balance this box on the stroller, I'll carry her…if she'll come to me." He placed the box, then extended his arms. "Want to see more, Maddie?"
She glanced at her mother.
"It's okay. Remember, Andy's my friend."
Her smile inched across her face. "Up, Fwend. Up. Higher! See more."
Andy grinned back, and glanced at Shannon with his thumb up. "Wow! She's a great kid. Good common sense. Jen's twins trusted everybody. They needed a leash!" Glancing at Shannon's questioning look, he added. "Anyway, that's what Jen said. I'm innocent." He took the child from her mother. "Is this high enough, baby?"
"Not baby. Maddie!"
Shannon's soft laughter got to him. Sounded sweet and familiar. Like in the old days when they'd worked on the school newspaper together.
"Now, I know you're really Shannon Murphy. You always had the greatest laugh. Still do. Family life must agree with you."
The laughter stopped. Her eyes darkened. Something wasn't right and Andy braced himself for whatever she was about to say next.
"It's Roberts now. Shannon Roberts, but family life is only Maddie and me. I named her after her dad." She paused, then quietly said, "Matt died in Afghanistan without ever meeting her."
His breath caught, and Andy automatically took her hand and squeezed it, his heart heavy for her. "I'm terribly sorry, Shan. I see the stories on television…and I donate…but…"
"Yeah. It sucks. It really does. Oh..,Maddie's a wiggly worm, so hold on tight—like when you catch a fly ball at Fenway."
"Got it."
"Mommy…?
"I'm right here. Andy is holding you."
The baby looked down and studied him. "An-dee..."
"Close enough. Do you know more words?"
She nodded fiercely and began singing. "Old Macdonna hadda farm. E I E I O. Cow! Moo moo, evewywhere a moo moo."
"So glad I asked," said Andy. "She could be a Delaney. In my family, everyone sings. It's unreal."
"I don't really know anyone in your family but you and Brian," she said, "so I'll take your word for it. Glad and amazed you both got what you wanted…Major League baseball. What are the odds?"
She gestured down the street. "Are we heading toward the same parking lot?"
"Seem to be," he replied, ignoring the career comment.
They started walking and the box shifted position. Shannon steadied it. "What's in here, Andy? It's pretty heavy."
He sighed. "Those are programs for the big gala we're putting on a week from Saturday night. A fundraiser for the memorial foundation in memory of my parents."
"I've heard about it," she said slowly. "My folks are going. I think they bought a whole table for Murphy Auto Parts with my two siblings and their spouses and of course, my grandfather. He loves to be in the thick of things."
Andy's mind raced like a car at the Daytona 500. "What about you? Can't you come?"
"I-I really haven't been going out yet…" She glanced up at her daughter, who seemed content to watch the world from on high.
"Maybe now's the time to consider it," said Andy, "if not for your sake, for mine."
"Yours?" she asked in surprise. "Mind explaining? Who, what, where, when, how and why?"
That newspaper experience seemed to have stuck. Andy took a moment to consider the details of the dinner-dance that meant so much.
"I'm going to be auctioned."
Her mouth opened and closed. "Could you repeat that?
"Part of this fundraiser is a bachelor auction. The most, and I quote, 'eligible bachelors in town.' Which evidently includes me. Plus a couple of other Red Sox players, a couple of physicians that Scott—my sister, Emily's husband—recruited, some CEOs and other high-profile Boston bachelors. We've got local radio personalities to do the announcing, but Mike will be the general emcee."
"Ah-h. Of course. Mike Brennan, your brother-in-law. How's the quarterback liking retirement?"
"Not retired. Just a change in careers. He's announcing for the Riders now instead of playing. So, whaddyasay, Shannon? Will you save me?"
Shannon remained quiet, but at least she hadn't said an outright no. "And I'll return the bid, of course," he added. "I don't expect you to lay out big bucks for this."
"I hadn't gotten that far in my thinking, but Andy. I'm sorry. I don't go out yet. Can't quite bring myself to rejoin a social singles world. I just kind of stick with my family."
He gave her a moment. "Then maybe it's time to reconsider," he said. "Maddie's almost three now. Is the right time when she's four? Five? Eighteen?"
He sensed her irritation but continued. "Before you know it, you'll be rocking on the porch of an old age home with a basket of yarn at your feet, knitting blankets! Think about it."
Her spontaneous laughter surprised him. Maybe surprised her as well.
"You really painted a picture there," she said. "I've already got the rocking chair. That's how I put Maddie to sleep some nights."
He glanced at the baby, who was sucking her thumb, still content to observe the world from on high. "You and she make quite a picture. A beautiful one."
"Are you trying to soften me up?" she asked, smiling. "Well, it worked. I'll…think about the auction and let you know." She stopped walking and searched her purse. "Here it is," she said, holding up her cell phone. "What's your number?"
Encouraged, he told her and whipped out his own phone from his jacket pocket. "An even exchange," he said, handing it to her. "Since my hands are full, will you…"
"Sure…but don't count on me, Andy. I'm not the same girl you once knew."
##
Shannon's high school memories of Andy Delaney kept her company as she drove up Commonwealth Ave to her less trendy neighborhood and turned onto Birch Street and into her own driveway. The Andy she'd just left at the parking lot—mature, handsome, confident—superimposed himself on that teenager of memory. More wiry and slender back then, of course, and quieter than his brother. He'd matured into an attractive man, still a friendly sort. Of course, he'd always had the confidence a gifted athlete carried. As center fielder for the Sox, his self-assurance could only have grown.
After turning off the car's engine, she opened the rear door as quietly as possible and removed a sleeping Maddie from her car seat, hoping her daughter would remain asleep for an hour or two more. Walking to her front door with keys in hand, she looked with satisfaction at the safe and homey world she'd created for her little family.
True, the clapboard, Cape-style house was small. In fact, it could be called tiny. But it was hers, thanks to her parents' help with the down payment. Not that she wanted to accept help, but her choices had been limited.
Move in with her folks? Stay in Texas on the military base? Her folks were great, but had she given in, she would have lost her independence. Her military family was also great, but too far from Boston. She couldn't, in good conscience, keep a brand-new baby away from all the grandparents. And she, herself, had been an emotional mess.
Her wonderful Matthew, an officer caught in an ambush by supposedly friendly locals. She should have been prepared; military wives lived with that fear every day. But grief had crushed her. She'd needed the love and support of her mom and dad, brother, sister and their families and her Pops.
So here she was, in her own place, with family nearby but not choking her. Life was as good and safe as it could be. Calm. Until a pair of gleaming green eyes popped into her mind. Her recent memory of the past hour.
A glitzy dinner-dance with a million people?
She shivered. No way. She preferred intimate gatherings.
A bachelor auction?
Definitely not her style. Besides, she didn't even own a fancy dress.
Andy had been a friend, but high school was a long time ago. She'd call him tomorrow and hope he'd understand her refusal.
Now she had to bake an apple pie and prepare dressing for tomorrow's turkey. Oh…dang! She couldn't call him on Thanksgiving.
She slipped off Maddie's winter jacket and kissed her soft cheek as she laid her in the crib. "Here's another one, from your daddy," she whispered and kissed the toddler again.
##
"Wow! What a mess. Where do you want this carton?" Andy stood in the center hall of his oldest sister's house on Beacon Street, the house he'd grown up in, not believing the disarray of stuff that greeted his eyes. Boxes everywhere. Papers piled on the coffee table. So unlike Lisa, who believed in organization.
"It's an organized mess," Lisa protested. "I know where everything is."
That he could believe. "What about everyone else? You know, the people who are supposed to help out here?"
"Just label the carton in big letters," she said, handling him a fat marker. "The last I knew, everyone could read."
"Yes, ma'am." He winked and followed orders. "I guess this is why Jen and Doug are hosting Thanksgiving tomorrow instead of you."
"For sure, especially with Mike calling the Riders' game in the afternoon—fortunately they're playing in town—so Jen needed to step in."
He started strolling the room, glancing at the various envelopes and printouts. "Where are the RSVPs?" he asked.
"On my computer," Lisa replied, "based on the mailed responses with payments, each table assigned and labeled. Who are you checking on?" She walked to her computer and looked at him.
"Murphy Auto Parts," he replied. "I ran into someone from the family who recognized me."
Lisa nodded without clicking the keyboard. "They bought a full table of eight, but I think they only gave me seven names." She laughed and shook her head. "I've got those whole-table reservations memorized. The Murphy's run a good business, and we like to patronize locally if possible. The grandfather and father still buy season tickets to the Riders' games and…partial season to the Red Sox." She shook her head in wonder. "I bet that's what keeps the old guy young."
Andy could think of other reasons, like an adorable baby, but kept the thought to himself.
Her eyes caught his. "Is your tuxedo pressed and ready for prime time? I'm betting our handsome eligible brother will bring in a huge hunk of change." She grinned. "We're going to have a great event and a great time."
"Maybe you will," he murmured, glancing at his watch. "Where are the kids? It's three o'clock."
"Always looking for action…"
The front door banged open and noise entered. "There's your answer," said Lisa, rising to greet her children.
"Uncle Andy's here!" shouted Briana. "Good. We're in for some fun."
Lisa's eyes shone. "That's what you're known for, little brother. It's not a bad thing. And they miss you when you're in Florida."
His winter home in Miami was what she meant.
He hugged his teenage nephew, Bobby, and leaned down to kiss Briana. "How about we mess up the kitchen and create a surprise dinner for everyone?"
"Oh, goody!" said Briana. "Those surprises turn out to be our most genius creations!" She turned to Lisa. "Mom? Are we stocked or are we bare?"
Andy was pleased Briana remembered that they used only ingredients already on hand for this cooking challenge. And by her reaction, his sister remembered, too.
Chuckling, Lisa approached Andy and wrapped her arms around him—or tried to. "Oof, you must be working out a lot. If I haven't already said it, I'm so glad to have you home for an extra while post season—even if I have to give credit to this fundraiser. And I hope you'll come back for Christmas this year."
An image of big blue eyes came into his mind, and he almost wished they hadn't. As he stepped back, however, he played it cool and simply shrugged. "Nothing's set in stone." Which was just the way he liked to live. He winked at Lisa. "Flexibility and no commitments. That's the upside to being single. A 'we'll see about Christmas' is the best I can give you."
##
Two highchairs, one booster seat… Thanksgiving at her parents' home did not resemble the idyllic greeting cards of the holiday. No quiet "please pass the butter" or "the sweet potato pie is yummy" on the lips of her family. Just voices talking over one another, increasing the decibel level with each passing minute.
Shannan sat back at the table, gazing from one family member to the other, loving each of them and happy to be ensconced, but sensing the beginning of a headache as she popped another bit of sweet potato into Maddie's mouth.
Her daughter, on the other hand, seemed to be in heaven, twisting left and right, babbling non-stop to whoever showed an interest. Which meant everyone. And wasn't that the point of moving back home? Security for her daughter, who needed loving people in her life.
Just as she did.
"Mom to Shannon…Mom to Shannon. Come in, Shannon!"
She smiled and turned to her mom. "Right here. What do you need?" She glanced at the serving dishes in front of her, ready to pass any of them down the table.
"What I need is what we all need," she said, glancing around the full table, "and that is for you to join us next week at that Delaney gala. We'd like to see you get out of the house. To be with people. And we included you when we bought a table for eight. Have you thought about it a little more?"
How odd, the quiet that settled over the room. Even the little ones had stopped their chatter.
Despite her mother's attempt, Shannon was too old to be manipulated. "And you think ganging up on me at the dinner table is the way to go?" She shook her head. "Take your foot off the gas and put your good intentions elsewhere. I'll rejoin society when I'm ready."
"And when will that be?" asked her dad, who knew how to run a business and thought he could run a family. "Matthew's gone more than three years. You're young, Shannon, and vibrant, with a long life ahead. Is waiting five years the magic number? Six? The longer you hide out, the easier it is to keep hiding. It becomes a habit."
Her parents really were ganging up on her, with a double play made more powerful by the echo of yesterday's conversation with Andy. "I'm meeting the public at the art gallery," she said. "In fact, I'm actually the best staffer to meet and greet customers. So you can all stop worrying about me. I'm not hiding."
Her sister, Amy, reached for her hand and squeezed. "I know what they say about good intentions, but we thought this gala would be perfect, since you would have us all with you." A sweet smile crossed her face. "You know—that safety in numbers thing."
Shannon's tension ebbed away. Her sister had been nothing but loyal, helpful and loving since Shannon had returned to Boston permanently over a year ago. She pressed Amy's hand, but glanced around the table until her gaze rested on her grandfather.
"No opinion, Pops? Or is discretion the better part of valor for you?" Which would have been a first for the extrovert.
Her cherished Pops's brow furrowed, and his eyes narrowed as he took in the scene before him. "Don't listen to any of 'em. My money's on you to do what you think best."
She rose and walked over to the old man, leaned down and kissed him. "I love you, Pops."
"I love you, too. And if you decide to go, you can be my date!"