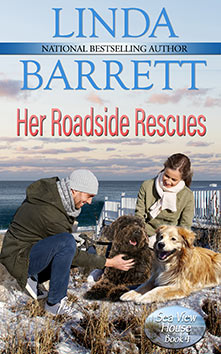 Her Roadside Rescues
A Sea View House Novel - Book 4
Some say it's magic, some say it's love. Does the truth really matter to the residents of a special place called Sea View House? In the coastal town of Pilgrim Cove, strangers are welcomed, and everyone else takes a front row seat as a love story unfolds.
Kathy Russo looks forward to her retreat at Sea View House--away from her interfering family--where she'll have peace and quiet to write the second book in her mystery series. She'll also continue to work her terrific day job on-line. With Sheba, her grandmother's rescue dog to keep her company, it's a perfect arrangement.
When his Boston apartment building turns condo, graphic designer, Brandon Bigelow, needs a place to stay for a while. A relationship that ended badly has him focused only on rebuilding his business. He hadn't counted on hitting a tree to avoid a stray dog in a winter storm. He hadn't counted on meeting a petite dynamo who insists he adopt the dog.
Neither Kathy nor Brandon had counted on a housemate at the beach. In the quest for success, will these two career-minded people make room in their hearts for a little magic? For a little love?
Chapter One
Bartholomew Quinn pulled open the heavy door of the Diner on the Dunes, the regular hangout for his ROMEO buddies, and breathed in the aroma of good coffee.
"Hits the spot every morning, it does," he said, turning back to his longtime pals, Doc Rosen, Sam Parker, and Ralph Bigelow, along with Ralph's grown nephew. "Especially with another New England winter coming on." He pulled off the woolen hat he'd promised his family he'd wear, revealing his still-full white mane, and led his cronies toward the back of the eatery, where an empty table waited for them.
"They're predicting a bad one this year," said Ralph. "I'm glad you're still here to meet Brandon—my brother's son—before he moves into Sea View House." The man reached around and clapped his nephew on the shoulder.
"You mean before Bartholomew escapes to Florida!" grumbled Sam Parker, whose friendship with Bart spanned over fifty years. "But I'm glad for you, Bart. Warmer weather can't hurt."
"Thank you, thank you. I'm a happy man, and I can't disappoint my Honeybelle, now can I? She's not wintered here in years and doesn't want to! But I'll come back and forth. Like a-a snowflake, I believe they call it."
Applause met his ears, and his heart filled. Where else but in this town could a man derive so much satisfaction with his life? He raised his eyes to young Brandon Bigelow and extended his hand. "Welcome to Pilgrim Cove. I'm always happy to meet more family," he said. "That's what life's all about. And I'm particularly happy when Sea View House has tenants. You can take that fact to the bank!"
He turned at the arrival of more men. "Ahoy! Here's Joe Cavelli and Mike Lyons. Now we're almost a full house. Hope Lou didn't get lost in a book and Rick isn't out walking a beat."
He motioned them all to sit down at the table, in the center of which a sign proclaimed, Reserved for ROMEOs.
"Reserved for ROMEOs," read Brandon. "You guys must have a lot of clout around here."
"We sure do," replied his uncle. "Everyone knows we look out for the town." He glanced at Bart. "Tell him about it."
Bart Quinn made himself comfortable, fixed his gaze from one to another of the seven, and waved to Lou Goodman, who'd just joined them. "Come, come. We have bits and pieces to explain to this young man."
"The chief's just behind me," said the retired librarian, extending his hand to Brandon. "Hello, son."
Bart slapped his hand on the table and exclaimed. "With Rick O'Brien coming, we have a full house! The best kind."
##
Brandon Bigelow leaned back in his chair, sipped his coffee, and watched the show. Neither the Land of Oz nor Wonderland could outdo this Pilgrim Cove experience. Who knew that his quiet uncle was part of group led by a six-foot leprechaun who must have kissed the Blarney Stone more than a few times?
They called themselves ROMEOs—Retired Old Men Eating Out—the caretakers of Pilgrim Cove. In theory, every town could use a team like that, but Brandon preferred fewer theatrics. Fortunately, he was part of the audience, not one of the players.
Until he felt a pair of keen blue eyes focused on him. Until he felt seven curious pairs of eyes fixed on him. Until he fought the impulse to squirm under their spotlight.
"So, my boy," said Bart, "your uncle says you need a place to stay for a while."
"A short while," Brandon said with a sharp nod. "But no favors. I'll pay my way."
"That you will, boyo. But Sea View House is part of a trust and leased on a sliding scale. Rental is fair."
Nice. "My building is being turned into condos," said Brandon, "and I need new digs…hmm…fast. I've got two weeks to get out."
"Condo conversions happen," said Bart slowly. "I should know since I've been dabbling in real estate my entire life."
Ralph chuckled and joined the conversation. "Some dabbling! Bart is president of Quinn Real Estate and Property Management, which he runs with his granddaughter. You'll see it on Main Street. Big sign. Sturdy building with big windows in front. We keep it in tip-top shape. Just like we care for Sea View House."
A new side to his uncle. Almost verbose. Brandon shook his head, wondering what other surprises lay ahead.
"Thank you, Ralph," said Bart. "That's what I call a top-notch referral." His gaze pierced Brandon again. "I'm pretty sure you had more than two weeks' notice to vacate."
The man was probing. If he expected an in-depth explanation, he was going to be disappointed. "As a Realtor, Mr. Quinn, you can appreciate how scarce affordable apartments are in Boston."
Which was totally true but left out the major part of his story. The part that had kicked him upside down and backwards, that had distracted him to the point of losing track of everything in his life including his need for new living quarters. And now here he was, dependent on this man and a place called Sea View House.
"That I can, boyo, that I can."
Lost in thought, Brandon jerked himself to awareness again. Quinn was talking about the scarcity of places in Beantown.
"And now you find yourself in a pickle."
True enough. "And a pretty sour one at that," said Brandon.
The whole lot of them actually guffawed. Around the table, every single one. Brandon managed not to join them.
"Sea View House is a beauty," Bart finally said. "A big gray saltbox, with two apartments and a widow's walk on top."
"Right on the beach," said Sam Parker. "My daughter-in-law spent part of a winter in that house, too. The wind can blow hard, and take sand with it. But there's a cozy, safe feeling there, she always said. Was never afraid to be alone. And then, of course, Matt swooped in and scooped her up!"
"What a time that was!" the librarian chimed in. For the next two minutes, Brandon was regaled with more stories of true love matches at Sea View House than he wanted to know. Especially not after his recent relationship fiasco. Was it six months ago? Or longer…?
"This house sounds like a marriage factory," said Brandon, trying to be upbeat along with the men. "But while I'm interested in living on the beach, in such a unique place, I'm not interested in finding a wife. If that's the criteria for rental, then sorry, but I'm outta here. I'll take my chances at a motel." And blow a wad of cash.
Stunned silence all around. "But son," said Bart, "not a one who lived in that house ever was interested in romance! They were just like you. And then"—he gestured widely and spoke slowly— "the magic happened. Love happened. It's a powerful force, ya know. Why…it's as powerful as the ocean right outside the back door. It can happen to anyone, even to a young-at-heart old codger like me." His voice faded, and Brandon shook himself out of the spell the leprechaun so easily created.
"You have a way with words," said Brandon, "I'll grant you that. And if your stories make you happy…" He shrugged, leaving the thought unfinished. "But those people aren't me." He paused. "Perhaps you have a different property here that's available?"
In silent accord, the men eyed each other, but it was Quinn who spoke.
"Ach…no, no, Brandon. It's Sea View House, with the fair rental, or back to Boston with you. A sorry loss for all of us. Your uncle…" He shrugged and let his voice fade.
Ralph clapped Brandon on the back. "It will all work out. You'll see. So, Bart, is it the Crow's Nest or the Captain's Quarters for my nephew?"
Finally, they were getting somewhere.
"You've got the choice, boyo. The other tenant hasn't shown up yet. Don't quite know when." The old codger clasped his hands together over his stomach and leaned back. "You'll have better views upstairs in the Crow's Nest, where you'll see the mighty Atlantic in all her moods. But the apartment downstairs is larger, and there you can open the back door and plant your feet right into the sand. You can't go wrong with either."
Wonderland was starting to seem better. His uncle was great. His aunt, too. The entire ROMEO group was a hoot. Definitely a one-off. His imagination kicked in, and he felt a smile lurk inside. He could definitely come up with a creative business card to promote them, even if it was just for kicks. He had a feeling the man with the brogue would get the biggest kick of all.
"With a house on the beach, the choice is a win-win," said Brandon. "But I work from home and need some space, so I guess it's the Captain's Quarters for me."
"And what does Brandon Bigelow do to earn his way in the world?" asked a familiar voice.
Brandon studied each man around the table. Not one under sixty-five, he'd bet. He'd stick to basics. "I'm what's called a graphic designer. I use art and a computer to help businesses communicate with their customers." A few furrowed brows formed. He should be more basic. "I create things like business cards, book covers, and flyers." And a whole lot else or he wouldn't be self-employed.
The faces brightened. "Who's got one of our business cards with him?" asked Ralph.
"I never leave the house without a few in my wallet." Lou Goodman, the librarian, reached into his pocket, pulled out a folded piece of card stock, and gave it to Brandon. "If you ever need anything at all while you're in Pilgrim Cove, you've got friends."
Brandon stared at the oversized card. On one side, in bright red ink, was the word ROMEOs. The other side, in royal blue, listed every man's name, phone number, and special skill. His uncle was listed as Ralph Bigelow, Electrician.
The men all looked at him, faces eager, as if seeking approval. And in that moment, Brandon realized that "taking care of the town" was no joke to this group. They really cared. With that thought, and to his surprise, he felt the recent hard edge he'd acquired begin to soften.
"It's perfect," he said with a smile. "Couldn't have communicated better myself." He took out his own wallet and placed their card inside. "I'm keeping this one." He'd probably never need it, but it sure made the old guys happy.
"That's what they're for. We're just a phone call away."
"No texting, huh?"
"Don't be foolish, boyo," said Bart, holding up his hands. "With these big fingers, fuhgeddaboudit!"
Brandon was still chuckling as he and his uncle left the diner. Still chuckling until he heard Bart's voice again.
"Brandon Bigelow! I did mention another tenant at Sea View House, did I not? Any time now. But no worries. Separate entrances."
He'd forgotten about that, but it didn't matter. He'd lived his adult life in apartment complexes with neighbors all around. This would be no different.
##
Kathy Russo, surrounded by suitcases, grocery bags, and a laptop near her apartment door, reached out and hugged her grandmother. "I love you, Nonna, and I'll take very good care of Sheba while you're in Florida. She'll love the new place I'm renting." She kneeled down to rub the beloved golden retriever mixed breed and was rewarded with a happy whine.
"I know you will, Katarina," said the older woman, "but it's not only Sheba I'm concerned about. I worry about you, too."
"But—"
"I know. I know. You're a very capable young woman," interrupted Teresa, who started to pace. "I've heard you a hundred times. And I trust Bart Quinn with his offer of that house on the beach for you. He loves that town of his. Why he bothers going to Florida"—she shook her head— "I don't know."
Kathy laughed. "I think the answer is—hm…what's her name? Oh, Honey something. Honeybelle. Right? Your new condo neighbors sound great. I'm glad you met them."
"Good people, yes. And both from Massachusetts. But they won't be with you over the winter. You won't know anyone at all. I'm not sure this is a good plan." Teresa continued to pace. "You'll be hours away from the family."
Kathy sighed, remembering the tumult, chatter, football game hullaballoo, and general havoc wrung by her entire family on Thanksgiving Day. A mere twenty-four hours ago. Thirty years of family chaos was enough!
She led her grandmother to the nearby sofa. "Come sit a minute." She gently clasped the woman's hand.
"I'll be less than two hours from home, Nonna, and mostly because of traffic. You know I need a break. No one in this entire family respects boundaries. They call, they show up, they interrupt." She sighed deeply and shook her head. "Like last week—"
Nonna's eyes narrowed. "What happened?"
"I was on the phone with my boss at Mass Life, and Nicky came pounding on my door, calling my name. Elizabeth heard him and I had to apologize. It was so unprofessional! And, not to pat myself on the back, but my projects are important. She depends on me."
"Of course she does. You're a whiz with mathematics. Maybe you should have been a professor!"
That dream had passed, and she'd moved forward. "Just born with the math gene, I guess. Numbers are great. They don't talk back like some people…" Her family. She loved them for sure, but three brothers could easily drive her crazy. After her oldest brother got married last year, her younger one had adopted a protective brother role.
"If I don't get away," said Kathy, "I'll never get any writing done. I have absolutely no privacy here. And I like solitude. I'm not like the rest of them."
The woman stroked Kathy's hair and cheek. "They love you, sweetheart, but they don't understand you."
"They think they do. If I hear absent-minded professor one more time…"
Nonna laughed. "You're more like me. Our choices are different from theirs. We prefer to work alone and maintain an orderly life. Choosing a more solitary road is incomprehensible to them."
"Exactly right. I'm not an extrovert like the rest of the family. It's too exhausting!"
Nonna emitted a full-throated laugh. "I know exactly what you mean. I get worn out, too. We're the oddballs, my dear, but to be happy, you must stay true to yourself."
Her grandmother was one in a million, and Kathy adored her. In her quiet, steady manner, Nonna had defied tradition and her family, graduating from college and becoming a paralegal at one of Boston's most prestigious law firms. A perfect career for a woman who loved research and organizing information, and who couldn't care less about perfecting a recipe for chicken cacciatore. She remained true to herself even after she'd met her Roberto and fallen head over heels in love. He'd understood her. A perfect match for forty-five years.
She leaned into her grandmother and hugged her close. "Thanks, Nonna. I'm delighted not to be the only oddball in this family." The natural light faded from the room, and she glanced out the window. "It's clouding up. Want me to drive you home before I leave on my…ahem…journey to another galaxy?"
Teresa flashed a smile. "No, no. Not necessary. Pack the car and get started." She bent down to rub her pet. "Take care of my girl, Sheba. And she'll take care of you. Deal?" She held out her hand, and the rescue shook it with her paw. "Good girl." She glanced at Kathy. "Two good girls!"
With a rueful chuckle, Kathy said, "Ah, Nonna. I'm not sixteen anymore. But...if you'd like to think so…"
"What I'd like is for you to be safe, stay out of trouble, and"—she dug into her purse, finally producing her cell phone and shaking it— "call me!" She rose from the sofa and walked toward the door. "Be happy, Katarina." With one last kiss, her grandmother left and closed the door behind her.
Kathy stood quietly for a moment before turning toward the loving canine Teresa had rescued as a pup almost five years ago. Sheba sat at attention, her eyes following the young woman's every move.
"I'm not leaving you behind, girlfriend. Don't you worry. You and I are taking a road trip!"
The dog whined and trotted to the door, tail wagging.
Kathy looked at her in astonishment. "How the heck did you understand that?"
Sheba sighed, walked to Kathy's suitcase, and waited.
"Goodness, Sheb. Maybe we should have called you Einstein."
A small yelp came next.
Kathy laughed and started staging the rest of her belongings. "Okay, puppy," she said with affection. "Let's pack up the car and go to a place called Pilgrim Cove. You'll be able to run on the beach all you want. And I will be able to work in peace. No one to bother us." Exactly what she needed to keep up with two careers, especially her writing.
"Sea View House will be perfect."