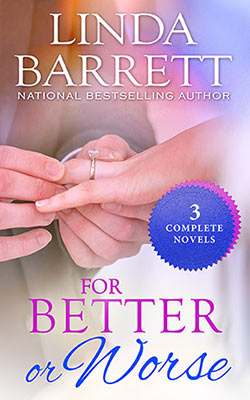 For Better or Worse
All three of Linda's Women's Fiction titles, available in one eBook!
The Broken Circle
Lisa Delaney drops out of law school to care for her four younger siblings when her parents don't survive a car accident. Mike Brennan, Lisa's fiancé, is in his rookie year with the NFL, and suggests he and Lisa marry quickly and give the kids a home.
Slowly the issues between Lisa and Mike lead to a meltdown of their marriage.
Has love died? Or has it been buried beneath obligations faced by two young people armed only with good intentions?
Family Interrupted
Guilt and blame.
Shaken by tragedy, the Barnes family has fractured. Mother. Father. Son. Each dealing with the pain separately and alone. Holding fast to guilt and blame. Real or imagined.
Can they find the road back?
The Soldier and the Rose
From the Greatest Generation, a love story to remember…
Two soldiers go off to war in Europe. Both from the same neighborhood in Brooklyn, NY.  Only one returns home.
Who is Rose's true love? The man she married with all her heart, or the man who married her with all of his?  It's a question only she can answer.