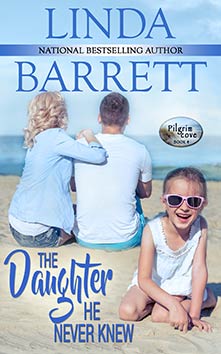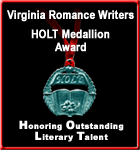 The Daughter He Never Knew
A Pilgrim Cove novel - Book 4
In the coastal town of Pilgrim Cove, strangers are welcomed, and everyone else takes a front row seat to watch a love story unfold.
After his twin brother died on the night of their senior prom, Jason Parker disappeared from Pilgrim Cove. Nine years later he returns in order to make peace with his family—with Lila Sullivan, the woman he can't forget—and with himself. But nothing and no one is the same as he remembers. Certainly not his family. Not Lila, with her fiancé and a child. Not even his old house. Can a wanderer ever find home again? Do second chances really exist?
Lila wants no part of this man who owned her heart years ago but vanished when she needed him most. His music ignites her emotions, but can she trust him not to break her heart again? Worse still, can she trust him not to break their daughter's heart?
A Perfect 10! 
"THE DAUGHTER HE NEVER KNEW is a story that grabs your heart from the beginning and doesn't let go. With well-developed characters that have you experiencing their emotions and realistic dialogue---a Perfect 10. The secondary characters add warmth and humor. This is the fourth book in the Pilgrim Cove series and can stand on its own, but readers will want to enjoy the other wonderful stories of Pilgrim Cove that Linda Barrett has created. For an emotion driven story that is hard to put down, I highly recommend THE DAUGHTER HE NEVER KNEW."
Joyce Koehl, Romance Reviews Today
5 Stars ***** 
"Once again, Sea View House in Pilgrim Cove is working its magic. The tale of Lila and Jason...was worth the wait! This is the most intense, most joyful and most emotional episode of the series thus far. Every book in the "Pilgrim Cove" series sits on my "Keeper" shelf, never to be loaned out. Mine! Mine! Mine! And Linda Barrett...don't stop writing about this town and its residents...."
Detra Fitch, Huntress Reviews 
Prologue
Los Angeles, CA
Was it the beginning of his life or the end?
Jason Parker removed his headset and stared into the glass booth at the Latin heartthrob whose voice had captivated millions of listeners in recent years. The singer had just finished recording and looked like he was in another world. A good sign, thought Jason as he waited for the vocalist to emerge. Luis Torres would spin Jason's words and music into gold...or platinum...as he'd done several times before.
This particular lyric, however, had come at a high price. With every word Jason had written, pain traveled from his heart to his hand. But he'd kept on writing. About Jared. About Lila. About loneliness. About home.
However, he'd finished the damned song without Jack Daniel's to keep him company! And that felt good.
"J.J.," called the singer, coming toward Jason, then slapping him on the back. "We have a winner! When this song hits the air, every woman in the world is Lila. Or wants to be. Yes? No? You agree?"
Jason inhaled hard. Lila! For nine years, he'd carried her image with him. Hearing her name in conversation jarred him. He didn't care about every woman in the world! He cared only about Lila and her reaction to the song. But he nodded and thanked Luis, and tried to focus on the man's next words as he waved over the conductor and technicians.
"The chorus would be richer with harmony," said Luis. With features set, he stared at Jason. "And your voice will blend very well, my friend. Let's do it."
Luis wanted him to sing? Sing to Lila? Jason turned around and walked a few steps before facing the singer again. "We've discussed this before, and the answer's still no. You're the voice. I'm the writer. If you want harmony, we can cut another track, and you can sing with yourself."
But Luis was shaking his head, his dark eyes intense. "Ahh, mi amigo, trust me to know. Do what I say, and the music will be complete. And maybe you will be, too."
Jason stood rigid, and Luis continued. "We'll take a vote when we're done—if you don't like the sound. In the true American way." He looked at all the musicians in the studio and swept his arm toward them. "We have very qualified voters, no?"
Glaring at the vocalist, Jason knew he'd been outmaneuvered. Luis was the one with the real clout. It was his voice and style that sold records. Jason sighed, took his headset and walked into the recording booth. A little more pain wouldn't kill him.
Chapter One
Three months later
Pilgrim Cove, Massachusetts
On the first Tuesday morning in May, Bartholomew Quinn, dapper in bow tie and suspenders under a lightweight sport jacket, tugged open the glass door of the Diner on the Dunes and made his way to the reserved booth at the back. He glanced at the round table, but none of his pals had shown up yet. He was alone, on purpose, with some special reading material he wanted to enjoy.
He chose a seat facing the front of the diner and made himself comfortable. From his inside jacket pocket, he withdrew a white business envelope, removed a thick sheaf of papers and flattened them out on the table. Although it was still in draft form, he was eager to get started on what would be the newest entry to the Sea View House Journal. The courtship of Rachel Goodman and Jack Levine would be the most exciting chapter yet.
Of course, he'd felt the same way when he'd read Shelley Anderson and Daniel Stone's tale, and before that, Laura McCloud and Matt Parker's. He chuckled softly. Where would all those young people be without him? Hadn't he thrown each couple together at Sea View House? He'd done some mighty good deeds lately in the name of love. His Rosemary was probably having a good laugh up there in heaven watching his antics.
He glanced at the sunny day through the picture window on the opposite side of the aisle, and listened with half an ear to the rich voice coming in over the speaker system. Beautiful song...whatever it was.
Suddenly, he sat straighter and listened harder. What was the man singing about?
"In my dreams, I am racing there,
To my Lila at the water's edge."
Lila? Which Lila? Who was racing? Where was the water's edge? His heart picked up speed, and his important papers were forgotten. Only one Lila mattered--his precious granddaughter--his only granddaughter.
Bart took a calming breath, then banged his fist on the table, annoyed with himself. He was jumping to conclusions. The song could be about a hundred other Lilas. He listened again.
"A broken pledge
Is all that's left,
In my hometown at the water's edge...
oh, Lila...my Lila..."
The words repeated and faded. My Lila. Bart sat perfectly still. He knew of only one person--one living person--with enough talent and enough heart to write a song about the girl he'd loved and abandoned in a hometown near the water's edge. Jason Parker, the boy who'd broken the hearts of so many people in Pilgrim Cove.
Bart had known this day would come, and in the beginning, he'd prayed for it to happen as soon as possible. But now, after nine years, he'd been blind-sided. Like all of them would be. Especially Lila.
#
With his car radio tuned to his favorite soft rock station, Sam Parker headed toward the Diner after dropping off his daughter-in-law at the harbor in time to make the 7:30 ferry. Tuesday was one of Laura's Boston days, and she'd get to the city in thirty minutes flat. Sam couldn't help but smile at how wonderfully his son Matt's new marriage was working out.
Nothing was more important than family. At sixty-six, he'd lived long enough to have learned that. The joy made up for the pain. At least, most of the time.
"Two boys glance in the mirror,
One face is all they see,
Along the shore, they are no more,
What's left of them is me."
What was that? What was Luis Torres singing about? The words pinched Sam's heart. His hands broke into a sweat, and the steering wheel slipped though his fingers, the car lurching to the side of the road. "Easy, easy, old man," he whispered, clenching the wheel again. But those words! Two boys with one face. Like his boys. His twin sons. Identical twin sons. Jason and Jared.
Sam forced himself to concentrate on his driving. Straighten the car, watch for cross traffic at the intersection. Accelerate to the next corner. Red light. Thankfully, he could pause.
He'd missed some of the lyrics, but now he attended to the words once more.
"...in my dreams, I am running there,
With my brother to the water's edge."
The water's edge. Sam's heart thudded again. The words echoed his sons' childhoods at the beach. Sam couldn't count the number of times his twin bundles of energy had run ahead of him to the ocean. "Only to the water's edge," he'd call after them. "Those are the rules until I get there." And they'd listened to their dad. They'd been good boys.
Could the lyrics really be Jason's? Jason, the son who'd survived the car wreck on the night of the senior prom. Jason, still in pain. Still blaming himself.
Sam listened hard. And unbelievably heard Jason's voice join Luis Torres's. For the first time in nine years, he heard his son's voice! And knew he was alive.
#
"Come on, Katie! We'll be late for school." Lila Sullivan continued to unload the dishwasher as she called to her eight-year-old daughter, but most of her attention was on the music that filled the kitchen with glorious warmth. What a voice! She stood quietly for a moment and closed her eyes, savoring the richness, the yearning. Torres felt the music. Made her feel it, too. She reached for a dinner plate, then paused. Had he said, Lila? She listened again, but only caught the last two lines:
"A broken pledge
is all that's left,
In my hometown at the water's edge...
oh, Lila...my Lila..."
Now she focused on the announcer's voice. "That was Luis Torres singing the title cut from his brand new album At The Water's Edge. The song was written by J.J. Parks specifically for Torres. They've collaborated on others, but I'm predicting platinum for this CD after it's released for sale next week...
It wasn't the dunes, the sand, or the water's edge that pointed to Jason Parker. It wasn't even her name. Not really. Not until he combined it with the broken pledge.
Lila's legs didn't work. She couldn't breathe, couldn't think. But inside, she screamed one word: Ja-son.
Like a tightrope walker balancing on a frayed cord, she made her way slowly across the room. With shaking hands, she placed the dish she held on the counter, amazed she hadn't dropped it. "...The phones have been lighting up," continued the DJ. "One listener said it could be a love song to Pilgrim Cove with our wonderful beach and dunes. But is there a Lila out there in our listening area?"
The announcer's words faded away. The room darkened, and once again Lila walked carefully across the floor, this time allowing herself to collapse into a chair. She took a deep breath. Exhaled. Took another one.
The DJ had given her all the information she needed. J.J. Parks and Jason Parker were the same person. She didn't have to be Einstein to figure that one out. The two Js stood for Jason and Jared.
"Mommy! I'm ready now."
Lila raised her head to look at her excited daughter--who was also Jason's daughter. Katie stood in the doorway with a loaded backpack weighing almost as much as she did. Her grin had gaps where baby teeth used to be, but she looked adorable with her bangs peeking out from under the baseball cap she insisted on wearing.
"It's sports day at school...and we're gonna play with the teachers and I gotta have my own glove and bat and ball... and...and...whatsa matter, Mom?"
Lila forced a smile. "Just waiting for you, sweetheart." And wondering what other surprises Jason might spring after all this time.
But maybe there wouldn't be anything more. Perhaps he'd written the song simply to earn money. He seemed to have caught a lucky break with Luis Torres, and maybe he just wanted to make the most of it.
Lila clenched her teeth. Money was no excuse. Jason's disappearance had affected so many people who loved him. Including Lila. For a long time after he'd left, she wouldn't allow another man in her life.
But nine years was...nine years. She was a woman now, with another life. And another man. She looked at the sparkling engagement ring on her finger. One of Jason's lyrics had hit on the truth. "Too late..." It really was too late.
Strength returned to her limbs, and she jumped from her chair, caught Katie and swung her around the kitchen. "I love you, Katie girl."
"I love you, too, Mommy. For ever and ever and ever."
#
By the time Lila dropped Katie off at school, she knew she had to make one stop before going to work even though she and her granddad were in the midst of their busiest season of the year. The phone had been ringing constantly for weeks at Quinn Real Estate and Property Management with people looking for both summer rentals and buys.
She headed north on Main Street and turned into the Diner's parking lot, checking out the other cars. She saw Bart's Lincoln Town Car and Lou Goodman's Plymouth. She scanned up and down the rows. Yup, there was the Chief's Ford. Doc Rosen's Buick. Sam Parker's van. It seemed most of the regulars had already arrived.
When she reached the entrance, she glanced briefly at the red and white sign on the door that proclaimed: Home of the ROMEOs. Despite the unnerving morning she'd already had, a grin emerged as she thought of those Retired Old Men Eating Out. And not a one of them truly retired yet. She doubted they understood what the word meant. And she knew for certain that they'd never retire from what they loved most: keeping tabs on Pilgrim Cove.
She waved to Dee O'Brien, the Chief's wife and the manager of the Diner, ignored her concerned expression, and continued to walk toward the ROMEOs' table.
The table was crowded. Lila studied the men she'd known all her life. Bart spotted her first and poked Sam, who shushed Lou, who motioned to Doc Rosen, who jabbed Chief O'Brien, who tapped his glass of water for attention. Which shut up Mike Lyons, Ralph Bigelow and Joe Cavelli. For the first time in the history of The ROMEOs, their table was fully occupied but silent. Eerily silent.
Lila put her hands on her hips and looked at her granddad's friends, men who'd watched her grow up, men who cared about her not only for Bart's sake and not only because she was part of Pilgrim Cove. She knew they loved her for her own sake, too. She focused immediately on Sam's worried expression.
"Relax, everybody. I've heard the song. I'm not falling to pieces. I'm a big girl, and you don't have to protect me. In fact, you can't."
She walked around the table to where Sam Parker sat and took his hand. "I think J.J. Parks is Jason, too, Sam. I...I hope you hear from him. He owes you that much. And more."
The man's hand trembled in hers, and she blinked quickly and cleared her throat. "What does Matt say?" she asked, referring to Jason's older brother, whom she considered a good friend.
Sam shook his head. "Haven't spoken to him yet. Heard the song in the car on the way over from the harbor." His eyes locked on hers. "Did you hear him sing, Lila? I-I heard his voice today."
Concern pierced her. "No, Sam," she replied gently. "You're confused. That was Luis Torres. Jason wrote the song, he didn't sing it."
But Sam was shaking his head. "Listen to the harmony in the chorus. It's Jason." He sounded confident.
Lila studied the man with the salt and pepper hair. A piano man who'd passed his strong musical genes down to each of his sons. If he said Jason provided harmony, she didn't doubt him. But she looked around the table at the other ROMEOs for confirmation. Some shrugged, some nodded, but they all looked as concerned as she felt. Except for her grandfather.
"My money's on Sam," said Bart, his blue eyes fierce. "He's always had perfect pitch, so his ears aren't getting older like mine."
Sam laughed. "No logic there, Bartholomew, but I like the thought." He raised his coffee cup in the air. "To my son, Jason. May he find his way home."
Eight men saluted with their mugs. Lila had none and was glad, eager now to get away. But when she turned to leave, Sam stopped her.
"You think he owes me," said Sam, "but how much does he owe you and our little Katie?"
"He owes me nothing," she replied softly. "And as for Katie--well, Katie will soon have a new dad in her life."
He sighed, and she hugged him. "But you'll always be her grandpa. Nothing will change that." She kissed him on the cheek and raced to the door.
When she walked into her office only a block-and-a-half from the Diner, her phone was ringing. The sound hurt her ears, which was a rare occurrence. Usually she welcomed every phone call with eagerness, each one an opportunity to build the business. But today, she wasn't in the mood to handle normal business.
She took a moment to refocus before picking up the receiver. And then wished she hadn't as her mother's voice accosted her.
"Your engagement to Adam Fielding is the best thing that's happened to you in years. Don't let anything ruin it. Or anyone!"
"So tell me how you really feel," murmured Lila under her breath.
"What, honey? I didn't hear you."
"Adam's a wonderful man," said Lila. "I'm fine. Now, go cook something."
"Tonight's special is potato encrusted red snapper. You love it. Why don't you invite Adam and Sara to join you and Katie at the restaurant. Dinner's on me."
Her mom sounded desperate, and Lila almost felt sorry for her. Almost. Strong minded Maggie Sullivan always thought she knew what was best for everyone and had a habit of taking over everybody's life--or trying to--and Lila wasn't buying. Not that she didn't love her mother. She did. But as her granddad had said after Lila had given birth to Katie, "Two bossy women don't belong in one house. Lila and the baby will live with me." Then he'd turned to Lila and winked. The arrangement had worked beautifully for eight years.
"Thanks, Mom, but I'm showing some houses to a Boston couple tonight. They're coming here about half-past six. But I'll send Granddad and Katie to you."
"Of course," said Maggie, more quietly. "My family always has a table at the Lobster Pot. I just want what's best for you, honey. You know that."
Yeah. That was the hard part. Maggie wanted the best for her daughter because she loved her. "Mom...I'm an adult. How about letting me decide what's best?"
Silence on the other end. Then, "Do I have a choice?"
"He wrote a song. Maybe it's the first successful song and the first money he's earned in nine years. Who knows what happened? I won't begrudge him a way to earn a living."
"As long as he earns it far away from here!"
"Oh, God, Mom! Listen to yourself. What about Sam? And Matt? And the boys?"
"They can go visit him--far away."
Lila shook her head. Her mom had made up her mind and would never change it. "Hang on a second," said Lila, booting up her computer and typing in Luis Torres's name. "You're safe, Mom. Torres lives in California, so Jason's probably there, too. Is that far enough for you?"
"Not Hawaii?"
"California is the best I can do."
"I'll take it." Maggie laughed, and Lila sighed, content for the moment. "There's really nothing to worry about, Mom. Take it easy."
"Sure. But if you hear from him..."
"What?"
"I have a feeling about this..."
"And I've got a business to run. So do you. Bye." Lila hung up the phone and shook her head. Her mother's imagination had taken flight.
She reached for a client's file, and then paused. Hearing the song at any point during the first five years of Jason's absence would have sent her into an ecstasy of anticipation. She'd believed in their love and devotion to each other. Remembering how it felt to be in his arms, she'd had no reason not to.
When he'd left town a month after the tragedy and asked her to wait for him, her "yes" had been expelled in her next breath. She and Jason had been part of each other and after the accident, she'd understood his pain. She'd known how close the twins were, how bereft Jason had felt. And how full of self-reproach.
Lila had been with the boys on prom night. They'd shared a keg, and Jared's good time had gotten out of control. Lila had said so then. She'd say it again now if asked. But Jason had wrapped himself in a cloak of blame. Too awful to dwell on.
Then four years ago, Matt Parker had visited and shown her Jason's annual Christmas card. Instead of holiday greetings, the card said, "If she's still waiting, tell Lila to forget about me. To have a nice life."
In her office, she cringed in remembered pain. Nothing since Jared's death had caused her as much agony as those two brief sentences. When the shock wore off, she'd worked harder with Bart, volunteered more and helped out in her mom's restaurant whenever she could--all in addition to taking care of Katie. She'd left herself no time to think. This method of survival had worked for her.
And then last year, she'd met Adam Fielding, the new veterinarian in town. Lila glanced at her ring and rubbed the stone gently. A good man, with a sweet little girl who was best friends with Katie. A perfect arrangement for everyone.